New Hyundai Kona Offers Full Powertrain Flexibility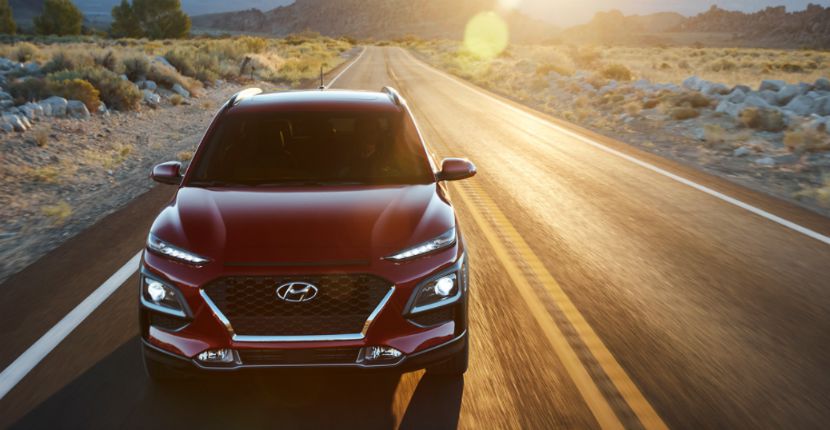 Looking at all the incredible new Hyundais for sale in search of the perfect vehicle for you and your family can be a challenging experience. Sometimes it can be tough to know exactly what you're searching for. Luckily, the new Hyundai Kona will allow Hyundai fans to finally have what they've always wanted: A Hyundai vehicle that can accommodate a variety of needs–and wants–to ensure every Hyundai fan drives off in their dream car.
The new Hyundai Kona has been designed to offer unprecedented powertrain variety. Mike O'Brien, Hyundai's vice president of corporate planning, product planning and digital business recently revealed to Hyundai dealerships that the 2018 Kona will be outfitted with a fully optimized platform.
"Other makers have to package for the largest powertrain in their lineup, so for example a V6," O'Brien explained. "The engine space has to accommodate that even though the volume models may have a much physically smaller powertrain."
But that won't be the case for the new Kona. The vehicle has been specifically designed to accommodate Hyundai's 2.0-liter engine in gas, diesel and all-electric powertrains. The new design offers drivers fantastic freedom of choice.
Want to go for the simple gas engine? No problem. The new Kona has a gas-powered 2.0-liter Atkinson cycle engine available paired to a six-speed automatic transmission. A 1.6-liter turbo engine is also available paired to a seven-speed EcoShift DCT. (Both gas options will get you 30 combined miles per gallon.) Or maybe you'd prefer the all-electric option? No problem.
The goal, according to Hyundai experts, is to achieve full powertrain flexibility.
"In generic terms, we now optimize all our future products to be able to accommodate all three of our powertrains," Chahe Apelian, senior manager of vehicle evaluation at the Hyundai America Technical Center, said in a recent interview.
The new system brings Hyundai one step closer to achieving its goal of offering 38 green cars by 2025. By 2020, the automaker hopes to have 60 percent of its line-up comprised of "eco cars."
The new Kona will be built on the same platform no matter your powertrain choice, but drivers who go for the all-electric option will be treated to a slightly different interior. The electric Kona cars will ride a bit higher than the gas and hybrid versions to allow extra space underneath the vehicle's floor for the battery pack. Other than that, all powertrain variations will look and feel quite similar.
The Kona debuted in 2017 as one of the market's first full-electric subcompact SUVs. Today, the Kona is one of Hyundai's best-selling cars. To find out what all the hype is about, come see the Hyundai Kona is person at a Hyundai dealership near you.
Still not sure which powertrain will best suit your lifestyle and driving needs? The knowledgeable staff at Rosen Hyundai is happy to help you decide.