2019 Hyundai Santa Fe will debut with new features and a fresh look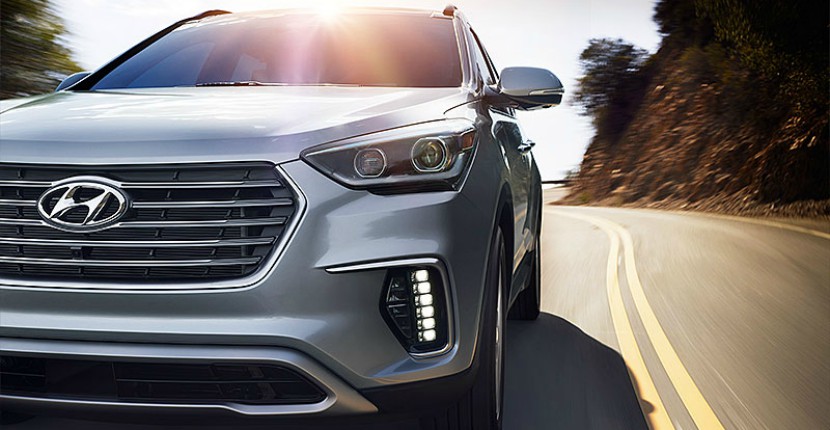 Hyundai dealerships are pleased to report that each crossover in the automaker's current lineup is getting a fresh, new makeover for the 2019 model year. The subcompact Hyundai Kona has already received an overhaul, the refreshed Tucson is due out this Fall, and a completely revamped Santa Fe is on the way.
The new 2019 Hyundai Santa Fe is shaping up to be one of the automaker's most attention-grabbing vehicles to date, thanks in part to a makeover that injects the new car with some cool, sleek attitude. Most notably, the new Santa Fe features a split light design with LED daytime running lights positioned above its LED headlights. The new headlights are a welcome addition to the vehicle's new grille, which funnels down from a silver bar that contains the top lights. The overall result is a front fascia with style to rival vehicles that cost three times as much.
The new Santa Fe has also grown a bit to accommodate its exterior amenities. The new car is 2.8 inches longer and 0.4 inches wider than the previous model and has a wheelbase that's 2.6 inches longer. The added space gives the 2019 model a more upright back end that allows for additional space for the vehicle's newly upgraded taillights.
But it's the vehicle's interior that really makes the Santa Fe a worthy competitor for the top slot at any Hyundai dealership near you.
The new 2019 Hyundai Santa Fe comes with a fully redesigned instrument cluster display, a head-up display that projects key operational information on the windshield in front of the driver, and some of the most comfortable seats we've found in any car on the market. The new Santa Fe also comes with a new center dashboard infotainment screen, vertically-oriented cup holders, increased legroom, and sleek, metallic detailing throughout.
And, of course, the 2019 Hyundai Santa Fe comes with an unmatched range of safety features, including Rear Cross-Traffic Collision Avoidance Assist, Rear Seat Occupant Alert, and Safe Exit Assist. The new Santa Fe is the first Hyundai vehicle to feature Safe Exit Assist, which temporarily prevents unlocked or locked doors from being opened when a motorcycle, bike or car approaches the Santa Fe from behind. If a passenger attempts to open the vehicle's door when the system detects an approaching object, an alert is sounded, a warning pops up and the doors remain locked.
We can't wait for you to get a look at the new 2019 Hyundai Santa Fe in person. To find out more about our current new Hyundai cars for sale, come visit us at Rosen Hyundai today. Our friendly, knowledgeable staff is always available to help you find the perfect safe, stylish family vehicle.