Hyundai Has Reinvented the Steering Wheel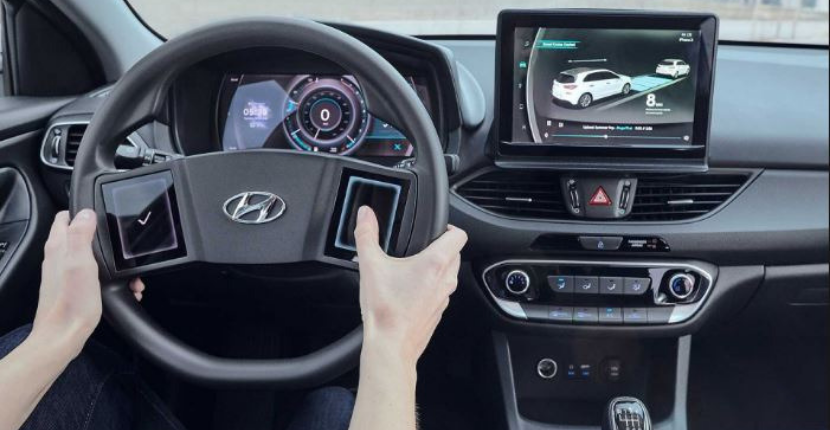 Hyundai's new vision of a future that involves replacing the majority of physical buttons with a small touch display. With touch displays taking over mobile devices, tablets, and computers the steering wheel is the next logical step in the progression of technology.
How does it work?
The buttons on the touch display act/respond just as actual physical buttons do. You can adjust the volume, make and answer calls, listen to text messages and go through the menu system on the display on the wheel with just a touch.  All buttons are labeled and easy to find, unlike some physical buttons on some wheels. There are piezoelectric motors under the panels of the wheel to provide haptic feedback, so you receive a "tap back" every time you push one of the buttons.  You also have the option to customize and arrange the button layout by dragging and dropping icons from the touch display.
Is it distracting?
Hyundai says it has organized driver distraction classes where they placed people in a simulator, strapped cameras to their eyes and asked them to perform specific functions, both while standing still and driving the car. User feedback was positive and distraction levels were low.
When will we see this in a real Hyundai?
Maybe not for a while. The system still needs a lot of work before it makes its debut. Hyundai seems very serious about this project and has invested plenty of time and effort into developing more effective stages of the system. The steering wheel is forever evolving. Whether we see this version of the wheel or something slightly different we're excited regardless.
What else does Hyundai have in the works?
A 3D instrument cluster is being tested currently. The setup uses two displays which shows a stereo image, this adds a depth to the on-screen graphic.
This is an interesting concept! Hyundai is always trying to find ways to stick out from the crowd and improve their vehicles. We think they're doing a good job. Do you?! If you are interested in more information on this, come on down to Rosen Hyundai and talk to one of our great employees! They can answer any questions you may have, also while you're here why not check out some of our new 2019 Hyundai models. We have everything from the 2019 Hyundai Accent to the 2019 Hyundai Santa Fe. We also have a wide selection of used vehicles on our lot! Whether you are looking for a new Hyundai or pre-owned vehicle, Rosen Hyundai is the Hyundai dealer for you!
Picture courtesy of Motor1.com