3 Hyundai SUVs with 5-Star Safety Ratings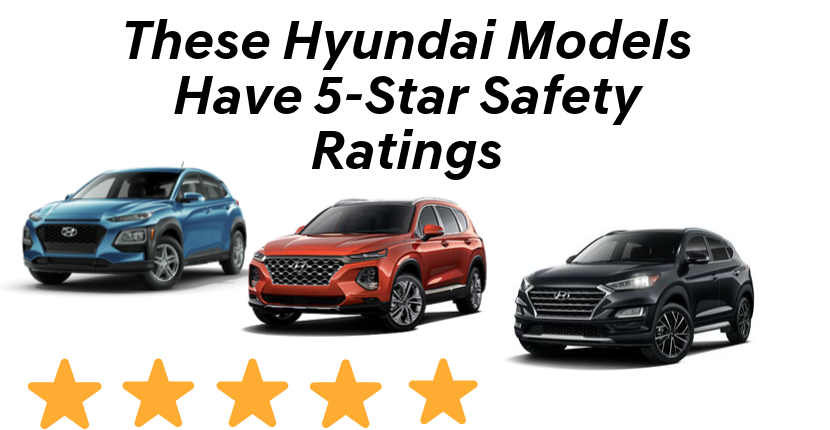 If safety is your priority, Hyundai is the right choice. Three Hyundai SUVs recently received a 5-Star safety rating in evaluations by the National Highway Traffic Safety Administration. Find out more about this below.
Which three Hyundai SUVs received a 5-star safety rating?
The 2020 Hyundai Kona, the Hyundai Santa Fe, and the Hyundai Tucson. The Hyundai Kona is Hyundai's new subcompact SUV. It has a great cabin and some great technology including some great safety technology. The Hyundai Santa Fe is a midsize SUV that seats up to five people. This SUV gives you a smooth ride and good gas mileage as well as a comfortable cabin and plenty of great features. The Hyundai Tucson is a compact SUV with plenty of great technology and safety features.
What gave the Kona, Santa Fe, and Tuscon this great rating for safety?
These vehicles all performed well in different individual vehicle crash tests that helped them get the high overall score from the NHTSA.
According to Cars.com, "NHTSA conducts three different types of crash tests before giving a vehicle an overall score. It measures a vehicle's frontal- and side-crash performance as well as its resistance to rolling over. The frontal-crash test is a simulated 35-mph head-on crash into another vehicle, while the side-crash test is really two tests: a simulation of a T-bone crash of another vehicle into the test vehicle, and a simulation of the test vehicle "sliding off the road" and hitting a utility pole just in front of the driver's door. Rollover testing is based on a static calculation of how prone a vehicle is to roll over during an evasive maneuver."
In addition to having good crash test results, each of these vehicles has added safety technologies that the NHTSA recommends. These safety technologies include forward collision warning, automatic emergency braking, lane departure warning, and a backup camera. These technologies are either standard or available on the Kona, Tucson, and Santa Fe.
If you are looking for an SUV that can keep your family safe, you should look no further than the Hyundai Kona, Santa Fe, or Tucson. All of these received a 5-star safety rating for SUVs. This shows that for Hyundai, safety is essential. If you want to check out any of these top safety SUVs for yourself, you can come down to Rosen Hyundai of Algonquin. We will be happy to help you upgrade your vehicle today.