All About the Hyundai Veloster N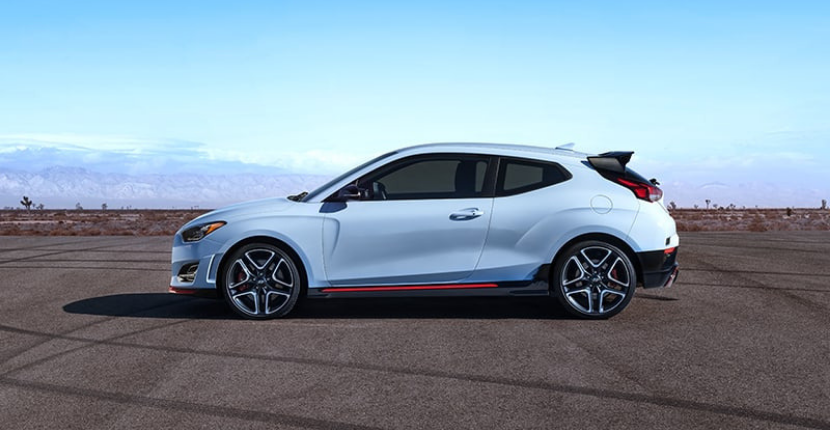 The Hyundai Veloster is a compact car. This vehicle is sporty and fun to drive, especially with the performance model the Veloster N. The Veloster has five different models that all provide different features, but the N is the performance model. Below, we are going to take a closer look at what the Hyundai Veloster N has to offer you.
The Hyundai Veloster is an exciting compact car with five different trim level options. The Veloster N is your highest trim level for the Veloster. This trim features a turbocharged 2.0-liter four-cylinder engine that produces 250-horsepower and is paired with a six-speed manual transmission. This trim also gives you 18-inch wheels with Micheline Pilot Super Sport summer tires, adaptive dampers, and Brembo brakes to give you an even better performance.
According to Motor1, the Veloster N is impressive; Motor1 has this to say, "If the standard Veloster N takes Hyundai's hatch and turns it up to 10, then the Veloster N with the Performance package twists the dial up to 11. The $2,100 option adds 25 horses to the stable (for a total of 275), an angry-sounding variable exhaust system, a set of 19-inch wheels wrapped in sticky Pirelli P Zero summer rubber, even larger 13.6-inch front and 12.4-inch rear rotors, and an electronically controlled limited-slip differential to the N."
Then, when it comes to the interior and the technology features, this vehicle also has a lot of great things going for it. With the Veloster N, you also have front sport seats, automatic climate control, a proximity key with push-button start, Apple CarPlay, Android Auto, and an 8-inch touchscreen infotainment system.
As you can see, there are a lot of great performance features that make the Hyundai Veloster N an exciting vehicle. This vehicle might be the fun performance car you are looking for.
If you are looking to upgrade to an exciting performance car, you should check out the 2019 Hyundai Veloster N. This vehicle is powerful and fun to drive. You also get a lot of great features with the 2019 Hyundai Veloster N. Come down to Rosen Hyundai to check out Hyundai vehicles for sale like the 2019 Hyundai Veloster.
Rosen Hyundai is a Hyundai dealership near you in Algonquin, and we have a lot of great vehicles for sale like the 2019 Hyundai Veloster. Visit us today!