How to Change the Clock in Your Hyundai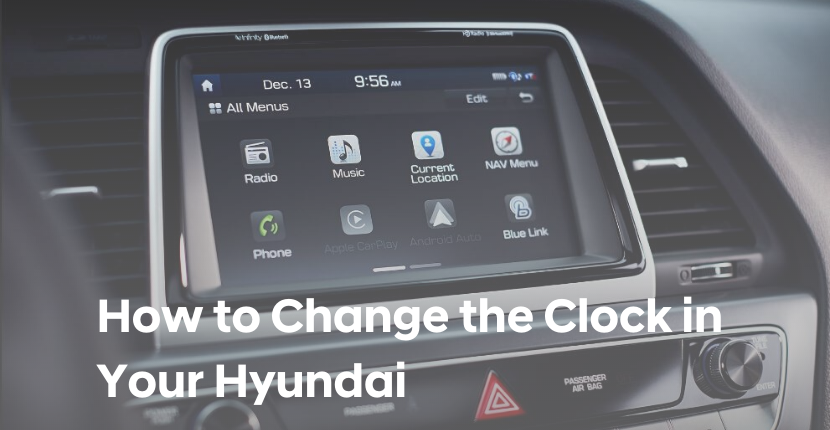 Yes, it's that time of the year again. As the season changes, the time to spring your clocks forward or backward quickly approaches. While changing the time on your home clocks and analog watches maybe a piece of cake, some individuals face difficulty with changing with a Hyundai clock reset.
You might be tempted to leave the dashboard clock as is, most digital auto clocks are connected to the navigation system and having the correct time will make your GPS operate smoothly.  Are you having trouble adjusting the dashboard clock in your Hyundai?  No worries, here are simple instructions that you can follow to set your clock back to the right time.
Remember, that the instructions for adjusting the dashboard clock may differ based on the model and year of your Hyundai vehicle. These instructions are specifically geared to recent models. Modern Hyundai vehicles are designed with a digital touchscreen display that replaces the car radio. Typically, on these cars finding the Clock/Time button isn't so obvious.
How To: Hyundai Clock Reset
How to set clock in a Hyundai is simple. Of course, changing the time on your car's clock can vary depending on the design of the vehicle and whether it has a navigation system or not. The 2020 Hyundai models are equipped with the latest navigational system.
Here are the steps you must take to get the correct time:
Find the Setup hard-key on the navigation system
Next, you'll see the Clock icon on the touchscreen display
The clock icon will take you onto the Clock settings screen. You'll notice that some Hyundai models have a Daylight Savings time option which enables automatic time adjustment in the Spring and Fall so that you don't have to remember to make the time adjustments. If your vehicle doesn't have this option you'll have to change the time manually.
You can manually change the time by finding the hour and minute selections. Press the arrows up or down to set the current time.
We hope this answers any questions you may have had on how to change time in a Hyundai. Are you having trouble performing a Hyundai clock reset as well? Let us know. Rosen Hyundai is a top-rated Hyundai dealer that can take care of all your needs when it comes to your Hyundai vehicle. Not everyone is technology savvy. If the aforementioned instructions aren't applicable and you still can't update the time on the dashboard clock you can just bring the car in to be professionally serviced by our experts. We are located at 771 South Randall Road in Algonquin.