How to Buy Your Hyundai Online at Rosen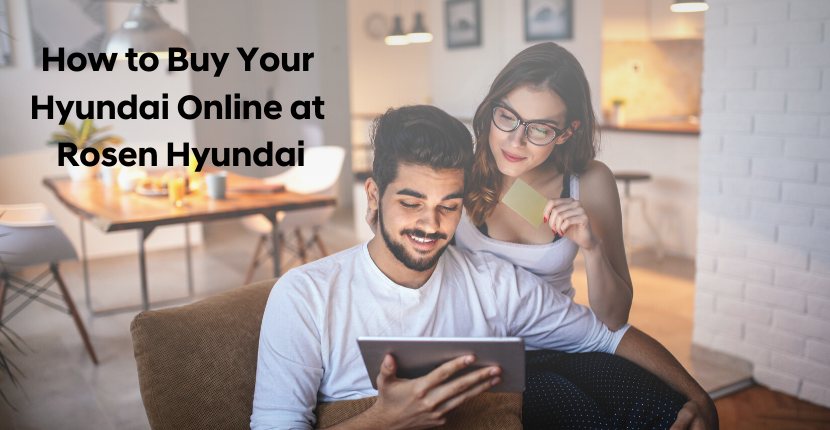 If you're interested in buying a new Hyundai, you might be wondering if you need to visit a dealership in order to secure the deal. After all, many people might prefer to browse and shop for a new Hyundai from the comfort of their own homes. A question we receive a lot is, "Can you really complete the car-buying process online?" The answer is yes.
According to a study from Accenture, 53% of people "would consider buying a car online." And, 16% of people already have.
Buying a car online can be a smoother process and experience thanks to Roadster. Buying online does require more work from the car-buyer. This work starts with a little bit of digging around on the internet. To start, you need to decide which brand you want to look into. In this case, Hyundai is your chosen brand. After this decision has been made, the real research beings.
Choose the right car
You need to think about the type of vehicle fits your needs the best. If you have a large family and need room for storage as well as children, you might want to think about Hyundai SUVs, such as the 2020 Hyundai Kona, 2020 Hyundai Palisade, or 2020 Hyundai Tucson. Looking for a safe sedan that will get you from point A to point B? If so, then you might want to look into a smaller Hyundai sedan such as the 2020 Hyundai Accent, the 2020 Hyundai Elantra, or the 2020 Hyundai Sonata.
Next, think about if you are interested in buying a new Hyundai or a used car. This is a huge deciding factor as well. Think about all of this for a while. Don't jump the gun. Purchasing a vehicle is a huge commitment and we want you to make sure you are making the right decision.
After a bit of thinking, hop onto the Rosen Hyundai website and get to searching for your perfect Hyundai. You can begin this search in a couple of different ways. You can browse through our entire Hyundai inventory or you can narrow it down by "New Inventory" or "Pre-Owned Inventory." From here you can shop by model and you can read descriptions of vehicles, highlighted features, specifications, and also view pictures of the interior and exterior.
Determine the price you want to pay
After finding the Hyundai that piques your interest, you need to determine how much car you can afford. Following the 20/4/10 rule is always key:
20: make a minimum 20% down payment
4: finance for no more than 4 years
10: monthly transportation expenses shouldn't exceed 10% of your monthly income.
This is helpful because if you know the MSRP of a vehicle that is outside of your budget, you can cut it from your list.
Get pre-approved online
Getting pre-approved is the next step in the online car buying process at Rosen Hyundai. You can easily get pre-approved for an auto loan through our website. In the navigation, click the "Shopping Tools" tab and on the right side of the drop-down box is the financing section. Here, you can click "Get Pre-Approved" where you can fill out a short online form. This should take no longer than 30 seconds to fill out.
Test drive
The hard work is now over! You can breath easy knowing that there are only a few things left- one being the test drive! Once all the previous steps have been completed, you can visit your Algonquin Hyundai dealer for the test drive. It's up to you how many Hyundai models you want to test drive. This is the best way to narrow down the pool of contenders if you are still not sure which model is perfect for you.
After the test drive of your life, there are only a few loose ends to tie up. Since you applied online for financing, you will just have to dot some i's and cross some t's with our finance department. Once this is complete, you can breathe a sigh of relief and drive home in your new Hyundai car, crossover, or SUV!
All of this is powered by Roadster. Roaster makes the car buying process as easy as 1,2,3!