Hyundai Hope on Wheels Support During COVID-19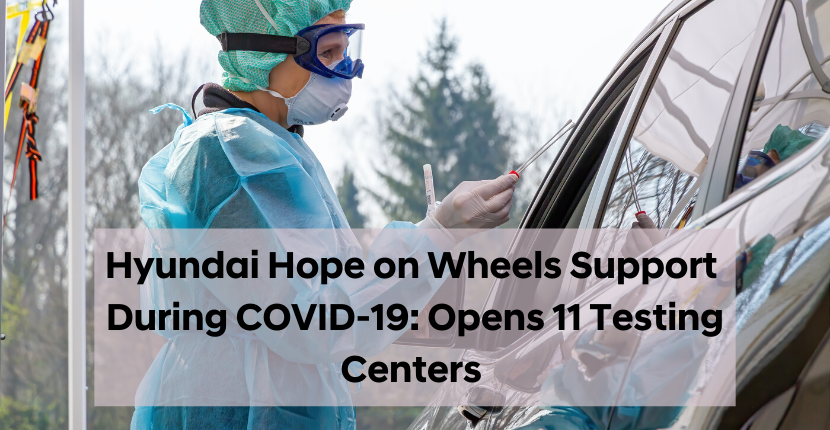 At Rosen Hyundai, we are aware of the impact that the coronavirus has had on the country and the world. We know that there is a lot of fear and uncertainty out there. That's why we are encouraged by what Hyundai is doing to make testing more accessible to everyone.
What is Coronavirus?
This Coronavirus is a mix of flu-like symptoms and pneumonia. There is no vaccine that can protect us against it at this time. The virus is especially threatening to elderly people and those with immune system problems. Hyundai understands the importance of getting tested and knowing if you have the virus or not, this will allow you to get medical help or self-isolate. In return, this will help slow the spread of the disease until scientists and researchers can find a vaccine.
How is Hyundai helping?
Hyundai has always supported the community, and we will continue to do so. Now we are focused on assisting hospitals in getting the funding they need to open drive-through testing for their local communities. This will help stop the spread of this nasty virus and help people get the answers they need without putting anyone at risk.
Hyundai has gathered 2.2 million dollars in grants to help set up drive-through testing centers. All of this is to support hospitals and help protect the community.
Hospitals receiving funding:
The Hyundai Cancer Institute at CHOC Children's, Orange, CA
UH Rainbow Babies and Children's, Cleveland, OH
Children's National Hospital, Washington, D.C.
Dana Farber / Boston Children's Hospital, Boston, MA
Seattle Children's Hospital, Seattle, WA
Columbia Medical Center, New York, NY
Joseph's Children's Hospital, Tampa, FL
Children's Hospital of Colorado, Aurora, CO
Children's Hospital of Philadelphia, Philadelphia, PA
Texas Children's Hospital, Houston, TX
University of Alabama Children's, Birmingham, AL
Hyundai is not focused on any one area, we are focused on all areas so we can help prevent the spread of the disease in multiple cities. We also encourage everyone to continue to stay at home. If you need to get tested, please do so at one of our drive-through clinics.
When this is all over, we hope you will visit us at Rosen Hyundai of Algonquin to talk about your next Hyundai vehicle. In the meantime, we welcome you to shop our express store! Buy or lease your next car online and we'll happily deliver it to your doorstep! Happy online shopping. We are located at 771 South Randall Road in Algonquin. Or call our sales team at 888-271-4351.