Updates for the 2021 Santa Fe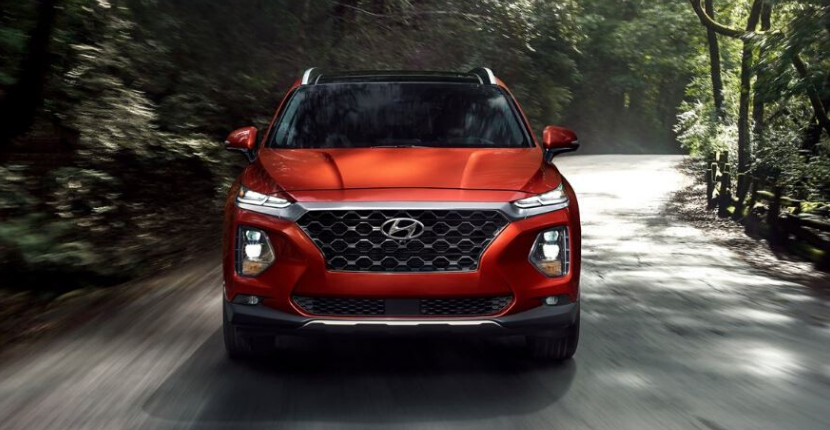 The Hyundai Santa Fe is getting a facelift and more for the 2021 model year. This vehicle is an SUV that offers you seating for up to five people, and plenty of great features and technology. This vehicle can be great for families and more, and with the new updates, it is going to offer you more features than ever. Check out what is new for the 2021 Hyundai Santa Fe.
2021 Santa Fe
There have been some teaser pictures that have been put out for the 2021 Hyundai Santa Fe. These pictures show a redesigned front end of this SUV that has a new grille with trapezoidal elements. This grille also is home to recessed lighting that houses part of the headlamps in the grille so that these elements blend together with the headlights are off. These headlights are in a T-shape, and they are split down the middle. There is also chrome framing to the grille, which highlights these parts of the exterior.
What else is new about the 2021 Santa Fe? Other than the exterior changes, there will also be a new vehicle platform for the Santa Fe that will allow for hybrid models. The 2021 Santa Fe will be available in hybrid and plug-in hybrid versions.
According to HT Auto, "Hyundai Santa Fe is one of the longest running SUV vehicles from the carmaker. Besides the aesthetic updates, the new Santa Fe will also get 'interior design updates providing premium amenities and comfort'. It is expected to get a 12.3-inch fully-digital instrument cluster for high-end models, more sophisticated driver assistance technologies as part of the upgrades in the new models."
What are you most looking forward to with the 2021 Hyundai Santa Fe? There are a lot of good things coming with this vehicle, and the new 2021 Santa Fe become available soon. You can learn more about this vehicle and what features are offered with it when more details come out soon!
Rosen Hyundai is a Hyundai dealership near me. We have a lot of great vehicles for sale like the Hyundai Santa Fe. We also have vehicles like the Hyundai Kona and the Hyundai Tucson. There are a lot of new and used Hyundai models for sale at Rosen Hyundai. You can check out our inventory online, or you can stop in to take a test drive of these vehicles for yourself. We look forward to helping you upgrade.