Hyundai Tucson Hits $1 Million in Sales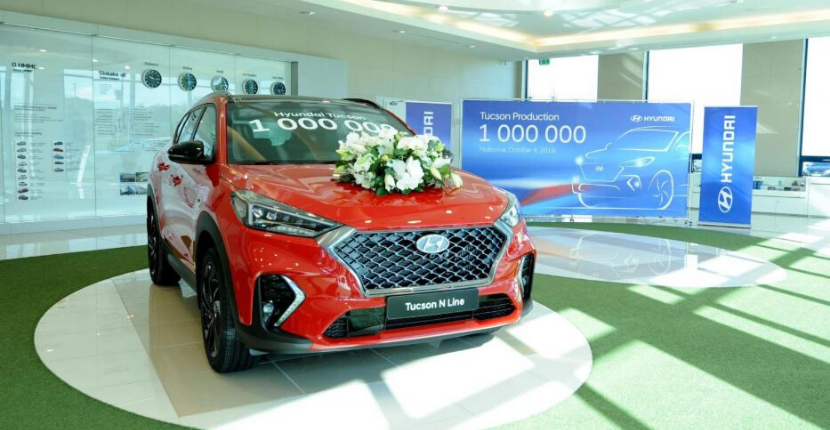 The Hyundai Tucson has hit a milestone for sales in the United States. This vehicle first came to the United States market in 2004, and it has now hit one million sales. This is a great milestone for this vehicle, and it comes just as Hyundai is working on an all-new version to be coming soon. Below, you can learn more about the Hyundai Tucson SUV and what it offers you.
The 2020 Hyundai Tucson is a compact SUV. This vehicle offers you a relaxed driving and riding experience with plenty of technology and interior features. You also get good reliability with this vehicle. Check out more specifics here.
First, let's take a look at the performance of the Hyundai Tucson. This vehicle has two different engine options. The base engine is a 2.0-liter four-cylinder engine that produces 161-horsepower. Your second engine option is a 2.4-liter four-cylinder engine that gives you 181-horsepower. Both of these engines offer you good efficiency with around 22/23 city miles per gallon and 28 highway miles per gallon.
On the inside of the Tucson, you have comfortable seating for five people. You have interior options like heated seats, a heated steering wheel, and more. For technology, the 2020 Tucson offers you features like Apple CarPlay, Android Auto, an infotainment system, a 7-inch touchscreen, Bluetooth, USB ports, and more. You also get standard safety features like forward collision warning, lane keep assist, a rearview camera, automatic emergency braking, and more.
According to CarBuzz, "The future is looking bright for the Tucson as an all-new version is expected to debut this year sporting a bold new design that will make you "freak out" according to the Korean automaker. Hyundai has been on a roll lately with its striking new design language seen on cars such as the new Elantra and stunning concept cars, so we can't wait to see if the new Tucson can live up to the automaker's claim."
There have not been many details about the 2021 Hyundai Tucson revealed yet, but this vehicle will have a complete redesign, so you can expect a different exterior style, upgraded interior technology, and more. Be on the lookout for more information about this redesign, and we will let you know more about this vehicle soon.
If you want to upgrade your vehicle to a SUV like the Hyundai Tucson, we can help you out at Rosen Hyundai. Rosen Hyundai is a Hyundai dealership near me, and we have a lot of great Hyundai models for sale near you like the 2020 Tucson.