Advantages of Buying with Pre-Owned with Rosen Hyundai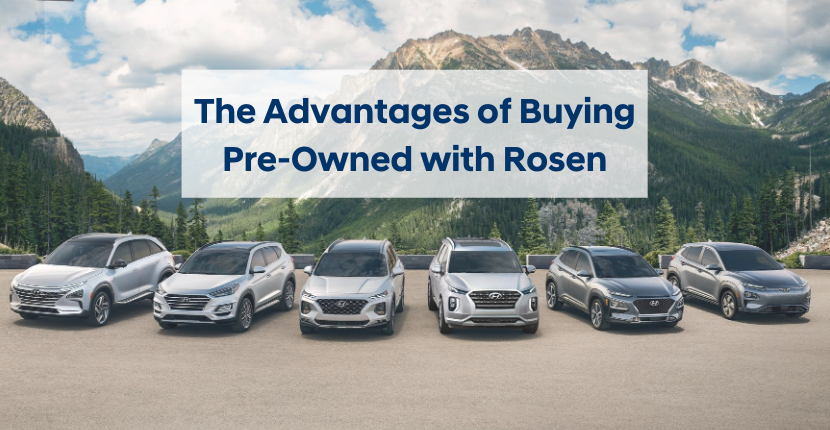 Buying a pre-owned vehicle can be a great option for many people because it can be an affordable one. Below, you can check out some advantages to buying pre-owned vehicles, and some advantages to buying these vehicles with Rosen Hyundai. If you have any questions, reach out to us and let us know.
Advantages of buying pre-owned
Save Money Buying Pre-Owned – As mentioned above, you can save some money by buying a vehicle pre-owned. A brand-new vehicle can be a significant investment, but even if you buy a vehicle that is just a year or two old, you can save a significant amount of money.
Great Selection of Vehicles – Buying pre-owned at Rosen Hyundai can be a great option because we have a great selection of vehicles for you to check out. We have different types of vehicles that can fit the needs of our many different customers.
Expert Staff – Another reason to buy pre-owned with Rosen Hyundai is the fact that we have an expert and experienced staff. Our staff has knowledge of all different types of models, and they are great at matching a person with a vehicle that fits their needs.
Customer-Focused Experience – We also provide a customer-focused experience at Rosen Hyundai. We truly want you to find the vehicle that fits with your life, and we want to make your buying experience as stress-free as possible.
Rosen Used Car Promise – Another reason to buy pre-owned with Rosen Hyundai is that we offer a Used Car Promise. The Rosen Used Car Promise helps you drive away from our dealership with no worries because it provides you with warranties and other features. What is part of our Used Car Promise? With this program, you get a 3-month/3,000-mile warranty, 24-hour roadside assistance, a 3-day exchange guarantee, a free vehicle listing report, and lifetime car washes. We also have the vehicle go through a 150-point recondition inspection to make sure it is operating as it should be for you.
Trade-In Options – At Rosen Hyundai, we can also help you trade-in your old vehicle to help you pay for your next one. We can give you a great offer for your trade-in to make it easier to purchase your next vehicle.
Buying a pre-owned car from Rosen Hyundai will have you feeling like this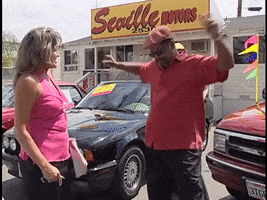 Rosen Hyundai is a Hyundai dealership near you. We have a great selection of new and used Hyundai vehicles. If you would like to check out our selection of pre-owned options, you can come down and visit us today, or you can check out our inventory online. Also, if you have any questions about your pre-owned options, you can reach out to us at Rosen Hyundai today.