Hyundai Achieves Automatic Emergency Braking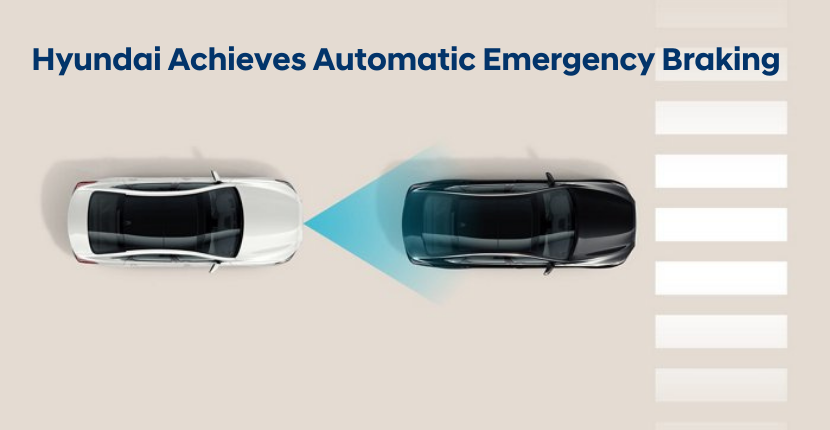 We love how Hyundai works hard to stay at the forefront of new technologies. This is especially important when it comes to safety features. Yes, new upgrades in tech, infotainment, and comfort are great and improve the driving experience, but safety should always be a top priority for carmakers. That's why we were happy to hear that Hyundai has offered automatic emergency braking (AEB) on 96 percent of the vehicles it makes for the U.S. market.
This commitment on the part of automakers to produce cars with automatic braking is voluntary, but the auto industry is all in on the effort. Hyundai, however, met their obligation two years ahead of the deadline.
Forward Collision-Avoidance Assist
Hyundai's AEB safety technology is called Forward Collision-Avoidance Assist. It's a result of the company's participation in the National Highway Traffic Safety Administration (NHTSA) and the Insurance Institute for Highway Safety (IIHS). Both organizations are dedicated to preventing injuries and deaths caused by car collisions. The NHTSA and IIHS believe this technology will prevent over 40,000 crashes over the next five years. This could also prevent as many as 20,000 injuries over that period.
Hyundai's Forward Collision-Avoidance Assist is a system that integrates cameras and radar to track other vehicles on the road. It sends a warning to the driver if it senses a potential collision. This alert is sent as both an alarm and a flashing signal. If the driver is unable to respond fast enough, the brakes are automatically applied. When used with standard safety features such as seatbelts and child seats, the safety of the driver and passengers is vastly improved.
Safety, Technology and More
Safety, technology, comfort, and style—all of these things combine to make buying a Hyundai 2021 one of the best decisions you'll make this year of any year. You can also rely on us for parts and accessories for Hyundai cars you buy now or in the future. Visit our website to browse our current inventory and find a new or used Hyundai SUV. While you're there fill out a credit application and get started on your road to a safe and reliable vehicle.
Call or Visit Rosen Hyundai Today!
Visit us at Rosen Hyundai today. We are located at 771 South Randall Road in Algonquin, IL. You can reach our sales team at 888-271-4351. Ask us about any brand new or pre-owned Hyundai vehicle!