2021 Hyundai Accent Named Best Subcompact Car for the Money by U.S. News & World Report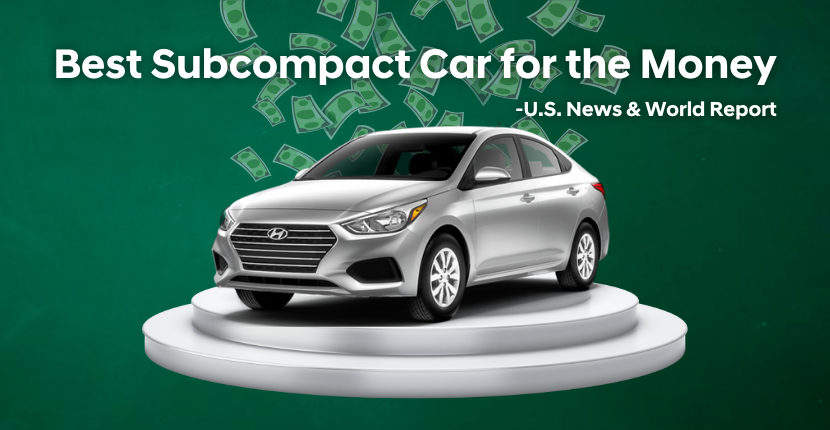 In February, the 2021 Hyundai Accent was named the Best Subcompact Car for the Money by U.S. News & World Report. Compact yet so complete, the Hyundai Accent gets it all done, easy. It has the smartest tech and conveniences to keep you entertained, informed, and connected. With a clean, modern style and innovative safety features that look out for you, the Hyundai Accent stands out in a big way. Now is the time to check out a Hyundai Accent lease at your Hyundai dealership! 
How the Rankings are Determined 
According to U.S. News & World Report, their methodology requires that with each class, the award winner has the best combination of quality and value. They measure quality by using a vehicle's overall score in the U.S. News Best Car Rankings. This overall score is based on safety and reliability data, as well as input from the automotive press. Additionally, they measure value by looking at each model's real-time transaction prices as determined by TrueCar, as well as the five-year cost of ownership data as calculated by Vincentric. 
How the Hyundai Accent Stood Out 
Subcompact cars have flooded the auto market in recent years. The Accent had plenty of competition in this category. Ultimately, the Accent stood out with a top score based on safety and reliability data. Additionally, it received high marks as a result of the collective opinion of the automotive press on a given model's performance and interior, as well as how strongly each member of the press recommends the car. 
High Praise for the Accent 
Describing the Accent's win, Jamie Page Deaton, executive editor of U.S. News & World Report, said, "The Hyundai Accent won not only because it has a low upfront price, but its ownership costs are also low. It earns strong recommendation from reviewers, and offers buyers a comfortable interior and an easy-to-use infotainment system." 
Olabisi Boyle, the vice president for Product Planning and Mobility Strategy at Hyundai Motor North America, described the Accent's allure. She said, "Sophisticated styling, an efficient powertrain and a long list of standard safety and convenience features make Accent a pleasure to own. Accent has consistently been a stand out in the subcompact segment and this award serves as further validation of our commitment to be a leader in sustainable mobility." 
Other Great Features of the Hyundai Accent 
One of the best features of the Accent is its excellent fuel economy to save you time and money at the gas pump. The Hyundai Accent mpg varies across trims. While the SE trim offers 29 mpg city and 39 mpg highway (33 mpg combined), the SEL and Limited trims up the efficiency with 33 mpg city and 41 mpg highway (36 mpg combined). 
With the Accent, you'll also get an amazing maintenance package. Every new 2021 Hyundai gets basic maintenance free for 3 years or 36,000 miles (whichever comes first). That makes caring for your new Hyundai easier than ever.
Hyundai Dealer Near You
Searching for a "Hyundai near me"? Scott Levy's Rosen Hyundai Algonquin, Illinois is your Hyundai dealership. Visit us to learn more about the Accent's excellent value or schedule a test drive today!