Hyundai Santa Fe Wins Best Option For Crossover Over Ford Edge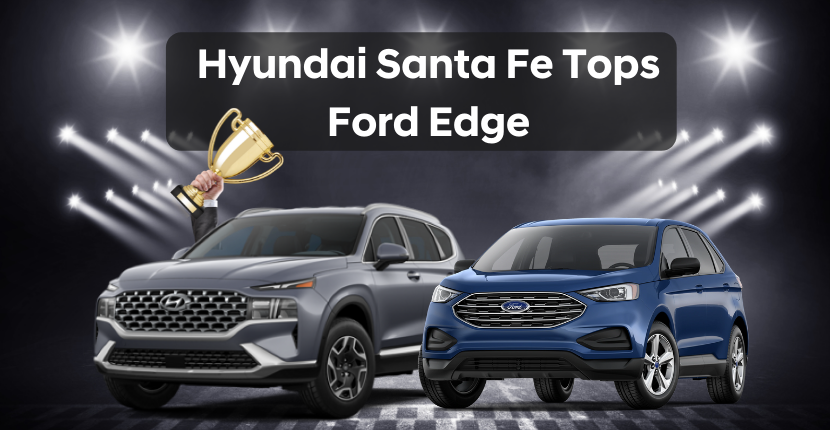 The 2021 Hyundai Santa Fe and the Ford Edge are often compared as two competing mid-size SUVs. Both convey style and reliability, while also providing that performance that consumers yearn for when looking for a new mid-size SUV. The Ford Edge was introduced in 2007. It has become a huge hit with consumers because of Ford's great reputation. The design has only slightly changed in the past decade and they have launched two new generations of the vehicle in recent years.
The Hyundai Santa Fe has been around for more than 2 decades and has become very popular with its stunning design and performance. Hyundai truly provided an upscale driving experience at a lower price. Car-buyers are always searching for a "Hyundai near me." But there's no need to search for that any longer. That search ends here at Rosen Hyundai Algonquin. Learn more about these 5-seaters below and see why the Hyundai Santa Fe comes out on top.
Powertrains
The Ford offers two engines, including a 2.0L turbocharged four-cylinder making 250 horsepower and 275 lb.-ft. of torque. This model comes with an eight-speed transmission and a choice between front of all-wheel drive. The next engine option is the 2.7L turbocharged V6 in the ST trim level. This engine provides 335 horsepower and 380 lb.-ft. of torque.
The Santa Fe provides you with more powertrain options to choose from. The SE and SEL trims are standard with a 2.5L four-cylinder with 191 horsepower and 182 lb.-ft. of torque. Higher trim levels upgrade to a turbocharged 2.5L four-cylinder with 227 horsepower and 311 lb.-ft. The even higher trim levels feature a gas-electric hybrid powertrain consisting of a 1.6L turbo four-cylinder engine with 178 horsepower and 195 lb.-ft. of torque. Talk about options! The variety of options in the Hyundai Santa Fe models show that there is an option for every consumer.
Fuel Economy
The Ford Edge estimates 21 mpg city, 29 mpg highway, and 24 mpg combined for a 2.0L model with front-wheel drive. The Hyundai Santa Fe is a major winner in the fuel economy category with the Blue Trim package that offers 36 mpg city and 31 mpg highway for a combined 34 mpg. The standard hybrid model offers 33/30/32 mpg which is very impressive. The Hyundai Santa Fe is notably more efficient. The Santa Fe is also competitive when it comes to pricing at $28,185 for the SE trim, while the Ford Edge is priced to start at $33,495 in the SE trim.
Tech and Safety Features
At a lower price, the Hyundai Santa Fe still beats the Ford Edge with better technology and safety features. The Ford includes more standard features at a higher price. The Santa Fe Limited and Calligraphy models stun with features that cost extra in the Edge or are not even available at all. Hyundai had the consumer in mind when designing the Santa Fe.
Safety is one of Hyundai's top priorities, and this is apparent in their design of the Santa Fe. The Santa Fe SEL model matches the base Edge's safety features at a lower price. The latest in advanced safety technology can be found in the Santa Fe's upper trims.
Visit Rosen Hyundai Algonquin to see the stunning Santa Fe for yourself!
Rosen Hyundai Algonquin is proud to be one of your top trusted Hyundai dealers. If you are looking for a Hyundai Santa Fe for sale or lease, visit us at our dealership. Our trained team of experienced professionals are ready to help you find the car of your dreams. Don't wait, visit us today to find the perfect Hyundai for you here at Scott Levy's Rosen Hyundai.