See What Customers Are Saying About Rosen Hyundai!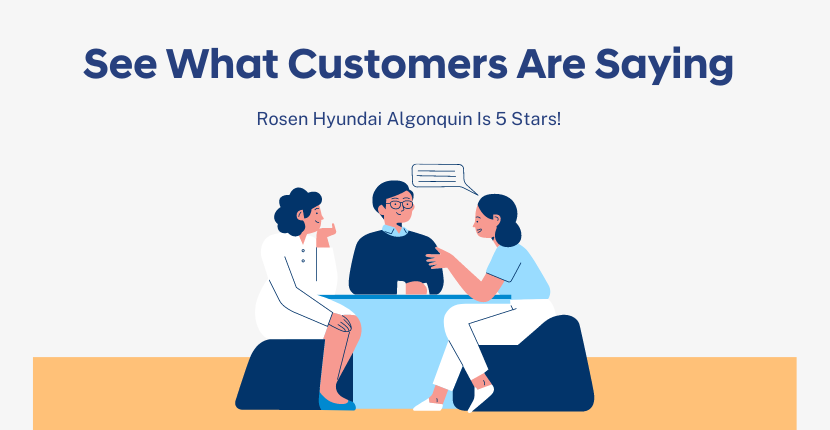 If you are in the market for a new vehicle, but not sure where to go, look no further than Rosen Algonquin. We're Chicago's #1 Hyundai dealer! Choosing a vehicle may be a difficult decision. So where do you turn to research what kind of car you'll get? More importantly, how do you find the right dealer?
59% of auto shoppers choose a dealership based on reputation according to a recent study conducted by SalesFuel. Auto shoppers care about the customer experience as most dealerships have a reputation for being "too pushy" or "unfair". Autotrader reports that 54% of consumers would buy from a dealership that offers their preferred experience, even if it didn't have the lowest price. There is opportunity for dealerships to increase revenue among customers without having to alter prices. When a seamless and personalized customer experience is provided, it keeps car buyers coming back.
Rosen Hyundai Customer Reviews
At Rosen Hyundai, we care about providing our customers with the best experience possible. In doing so, customer feedback is welcomed and encouraged. Feedback makes us better. See what some of our customers are saying about Rosen Hyundai.
My overall experience at Rosen Hyundai of Algonquin was the most pleasant experience I've ever had at a dealership. Everyone from the salesperson Jared to the sales manager Brian and the finance manager David made me feel like part of the family and took care of me and my kids. I would highly recommend this dealership over any other Hyundai dealership and this is coming from someone that actually worked for a Hyundai dealership somewhere else. – Google User
Great place to work at, management is super helpful. It really does feel like a family dealer, no upselling, no trying to stick customers in payments they can't afford. This dealer really is just about making customers happy, and I love it. – Facebook User
Rosen Hyundai is a first class dealership. No pressure, always looking for ways to help. My salesman Jon did a stand-up job and I would recommend him to anyone. The entire crew were great. This is the place to go for a new car!!!! – DealerRater User
We have bought 2 new Hyundai Santa Fe SUVs in May 2021. We had a great experience because every employee at Rosen Hyundai is a consummate professional who has an exceptional knowledge in her/his field and they also go out of their way to help customers to have the best customer service experience possible. – DealerRater User
Thank you so much for the kind words, everyone! We look forward to staying as your go-to Hyundai dealer!
Why Buy From Rosen Hyundai Of Algonquin
We at Rosen Hyundai understand that our sales are not driven by price alone. Our customer service experience is what keeps our customers coming back. If you are in the market for a new or used Hyundai vehicle, give us a call! Visit us today and our sales team will be happy to help you find the vehicle of your dreams!