Meet Will Foster, Used Car Manager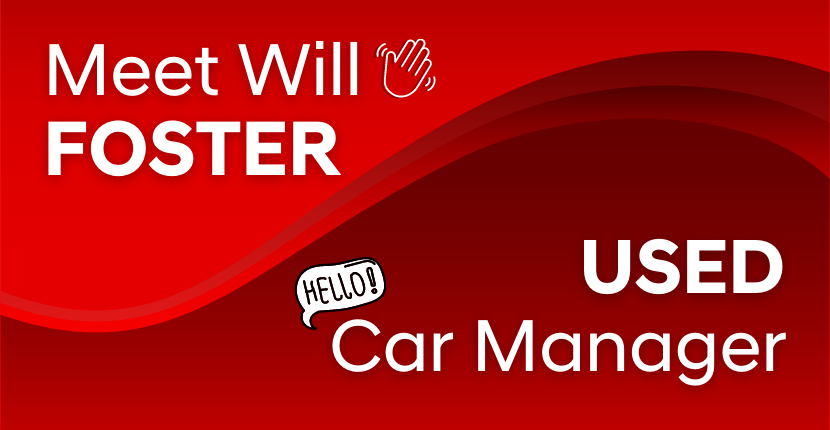 We know that pride is a weakness, but we just can't help but boast about our amazing employees! Rosen Hyundai is very happy to say that each and every one of our employees are highly skilled and extremely compassionate. We wouldn't be able to give our customers the best car buying experience without the support of these dedicated individuals. One major player on our team is Will Foster, our Used Car Manager. He goes above and beyond to make sure every person walks out our door with a smile on their face. Learn more about Will below.
About Will
Will is a new addition to our team here at Rosen, and we're so glad to have him! He's been doing a fantastic job as our Used Car Manager. You can tell that he loves to make customers happy finding the perfect vehicle for them every single day. He contributes every day to making the Rosen Auto Group the best it can be.
We asked Will some questions to get to know him better. See what he said:
1. What is your hometown?
Carpentersville, IL and graduated from Barrington High School.
2. How long have you been with Rosen Hyundai? What about the automotive industry?
6 Months at Rosen and 6 years in the car business.
3. What is one fun fact about you?
I love the Fox River and spending time with my family.
4. What is your favorite car?
Bentley Continental GT.
5. What is your favorite thing about working at Rosen?
The loyal customer base.
6. What will customers experience when shopping at Rosen?
Honest and no hassle experience. I love helping people get the vehicles they want and dream about.
7. Is there any other information you would like us to include in your blog article?
I look forward to running my own car dealership in the near future.
Trust Is Earned
The Rosen Auto Group was founded in 1989 by Saul Rosen, and we've been a trusted member of our community ever since. Our secret? Trust. Any relationship ones builds is based on trust. Our Rosen Promise describes this perfectly. In short, we want you to be able to buy on your terms, on your time. You can read all about the Rosen Promise here. We've been in Algonquin for over a decade, so you can rest assured that we've developed a thorough understanding of what our customers expect from us.
Visit Will At Rosen Hyundai Algonquin
Stop in to your Hyundai Algonquin to meet Will and the rest of the Rosen team, especially if you're looking for a used Hyundai! When you're searching for "hyundai dealers near me," Rosen Hyundai of Algonquin is your answer. We're always happy to help new and familiar faces. Whether you visit for sales, service, or parts, we'll be sure to help you with everything you need. Don't forget to explore our options of new Hyundais for sale as well. Our incredible finance department can discuss your circumstances and find the best payment options for you. We want you to find your dream vehicle at Rosen Hyundai!