Santa Cruz Wins 2021 Best Pickup Truck Award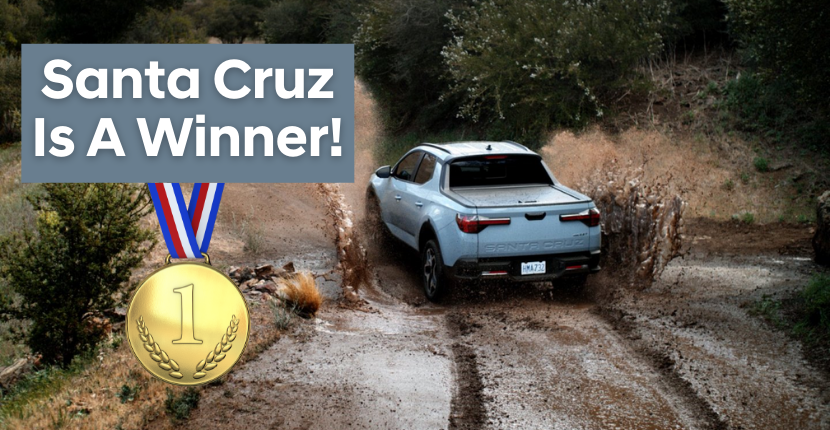 Hyundai's brand-new Santa Cruz Sport Adventure Vehicle just won the 2021 Best Pickup Truck Award from the Northwest Automotive Press Association. It has been breaking new ground within the SUV truck and crossover segments. The 2022 Hyundai Santa Cruz offers a true Sport Adventure Vehicle unlike any other vehicle in the U.S. auto market. Check out the new Hyundai Santa Cruz at Rosen Hyundai now!
Introducing the Hyundai Santa Cruz 
The Hyundai Santa Cruz is the first Hyundai truck. It's a brand-new model that reimages driving as a Sport Adventure Vehicle built to pack all that you can into each day— down to the last detail. Hyundai gave it the perfect combination—the modern convenience and space of an SUV, and the open bed of a pickup truck, to bring you uncommon flexibility and freedom. On top of all that, the new Hyundai pickup truck boasts bold yet sophisticated design, efficient powertrain options, a flexible open bed for gear, cutting-edge connectivity, and a highly maneuverable all-wheel drive platform. The Santa Cruz is available now at a Hyundai dealership near me!
How the Santa Cruz Was Named the 2021 Best Pickup Truck 
Northwest Automotive Press Association utilizes an on-road evaluation venue that tests acceleration, handling, braking, rear-view cameras, and more. The special track features elevation changes, sharp corners, and sweeping curves – creating the type of conditions drivers encounter on the road every day.
To test vehicles' off-roading capability, the Association used an off-road course that simulated rough Forest Service roads that northwest drivers often encounter on weekend adventures. To challenge each vehicle's four- or all-wheel drive systems, the track included plenty of loose dirt, deep ruts, steep climbs, and dramatic descents. On both of these tracks, the Hyundai Santa Cruz outshined its competitors, earning it the 2021 Best Pickup Truck Award. 
Utility That's Off-The-Charts 
Giving you off-the-charts utility, the Santa Cruz features a well-designed, durable open bed. The bed comes with side and sealed underfloor bins for extra storage, power outlets, security, and a drain. Deep dive into what makes every journey worth the trip, the Santa Cruz bed has it all. 
When go time is all the time, the Santa Cruz makes your road adventures easier.  It adapts to your sporting and storage demands with flexibility and finesse. For example, one feature is underfloor storage that transforms into a cooler, so you're always ready for anything. It's all here, so you can always safely secure cargo. 
Visit Rosen Hyundai!
Get excited about the brand-new Hyundai Santa Cruz! At Rosen Hyundai Algonquin, we're here to help you access this first-of-its-kind Sport Adventure Vehicle. So visit us to learn more about the amazing new Santa Cruz or schedule a test drive today!