Autotrader Names Ioniq 5 One Of Best New Cars For 2022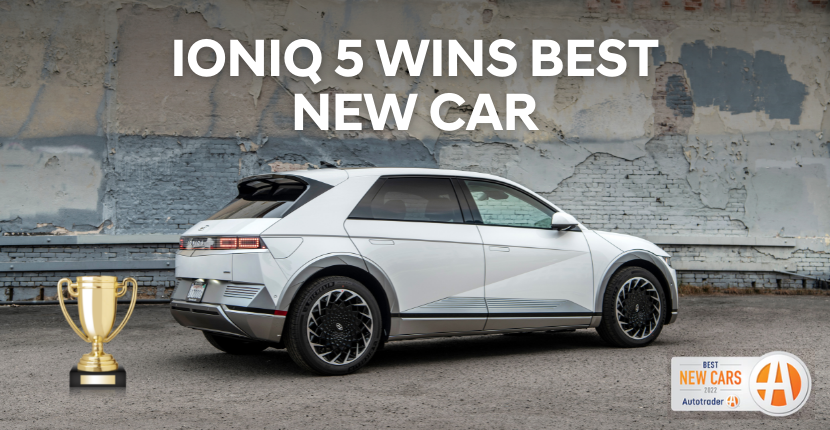 Autotrader recently honored the all-new 2022 Hyundai IONIQ 5 as One Of The Best New Cars for 2022. It was one of only 12 vehicles, including cars, trucks, and SUVs, in the entire auto market to receive the award.  Out of 300 examined vehicles, Autotrader awarded these 12 vehicles because they are a "cut above the rest." Check out the award-winning IONIQ 5 for yourself at Rosen Hyundai Algonquin now!
How The IONIQ 5 Stood Out 
Winning the Autotrader Best New Cars for 2022 accolade, Hyundai's all-electric IONIQ 5 beat out competitors and outshined everything else. Autotrader recognized the Hyundai electric car for offering Best-In-Class Ultra-Fast Charging. The vehicle goes from 10% to 80% in just 18 minutes. With this impressive battery, the IONIQ 5 delivers a driving range of more than 300 miles. 
On the IONIQ 5's win, Brian Moody, executive editor for Autotrader, said:
Electric vehicles have matured beyond just traditional gasoline cars fitted for electric powertrains later in life. Now, cars like the Hyundai IONIQ 5 are purpose-built EVs designed to be electric from the very beginning. This matters because when you eliminate the need for a large gas tank and delete a huge chunk of metal from between the two front wheels, the designer is freer to make dramatically different choices in terms of the car's overall look, interior space and technology. And our editors like the way the IONIQ 5 looks.
Selection Criteria
Autotrader is the most recognized third-party car listings brand, with the most engaged audience of in-market car shoppers. A team of experts at Autotrader collectively tested and ranked new models using a range of criteria. The selection process focused on models that would be available for purchase within the next nine months and included vehicles they think offer significant value or groundbreaking technology. After reviewing over 300 vehicles, the panel selected only 12 vehicles as the Best New Cars for 2022. And the Hyundai IONIQ Electric made waves!
Great Pricing 
The IONIQ 5 price is the most affordable way to get our most electrifying model.⁠ Starting at $39,700, IONIQ 5 SE Standard Range trim gives you 168 horsepower (125 kW) and 220 miles of range. In addition, on top of its great charging capabilities, you even get free charging. ⁠
Hyundai's Electric Platform 
The IONIQ 5 is just the first of a series of exclusively electric vehicles. And they'll all be built on the same ingenious Electric Global Modular Platform (e-GMP). Not only is it flexible enough to be used for all kinds of electric vehicles, but engineers designed it with cutting-edge battery technology. It's how IONIQ 5 can even be used as a power source for bigger electric devices and appliances, and is one of the few EVs that can support 800V ultra-fast charging.⁠
Visit Rosen Hyundai!
Looking for a Hyundai dealership near me? At Rosen Hyundai, we have a full inventory of new and used vehicles—including Rosen EVs! Our goal when you visit our new Hyundai Rosen dealership is to provide you with a superior experience satisfying your needs. Experience the Rosen difference when you shop or service with us!