Hyundai Accelerates Electrification Strategy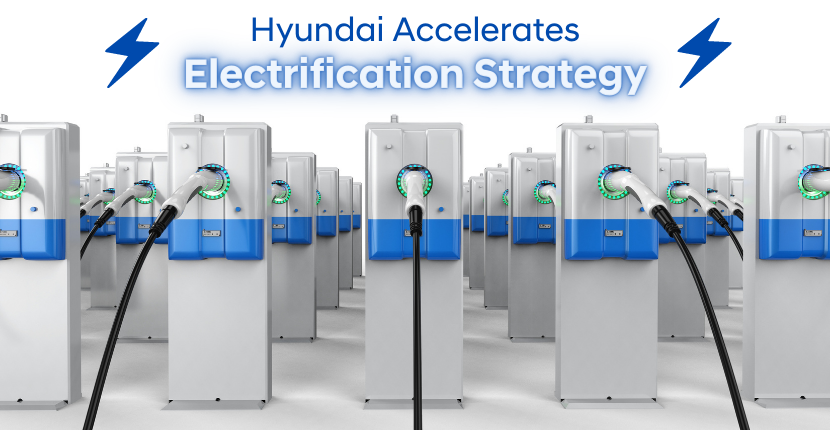 It's time to get excited. Hyundai just released a strategic roadmap to accelerate its electrification ambition in pursuing a sustainable future. Announced at Hyundai's 2022 CEO Investor Day virtual forum, the plan includes sales and all-electrification targets to be achieved by 2030. As manufacturers shift to all electric fleets, Hyundai is taking a unique, strategic approach to serve customers while maintaining sustainability. Check out the full lineup of Hyundai EVs now at Rosen Hyundai Algonquin!
Hyundai's Electrification Roadmap 
Pursuing electrification leadership, Hyundai's electrification roadmap is for battery electric vehicles (BEV). The plan is focused on three elements: strengthening BEV line-ups, optimizing manufacturing capacity, and securing hardware and software competitiveness. With this plan, Hyundai aims to boost annual global BEV sales to 1.87 million units and secure a 7 percent level of global market share by 2030. That means widespread availability of Hyundai electric cars in the near future. 
New Electric Models 
Withs its ambitious electric goals, Hyundai is set to introduce a spate of new EVs. In fact, Hyundai released plans to introduce a whopping 17 BEV models, 11 of which will be Hyundai marque models followed by six luxury models from Genesis. Seeking to expand its BEV spectrum, Hyundai will introduce three new sedan models, six SUVs, one light commercial vehicle, and one new model type.
Following its success with the Hyundai IONIQ 5, Hyundai plans to debut new versions of the model. With a starting IONIQ 5 price of $39,950, new Hyundai IONIQ electric models will follow suit. This year, Hyundai begins sales of the IONIQ 6, and 2024 will welcome the new IONIQ 7. 
Hyundai Prepares To Lead The EV Market 
President and CEO of Hyundai Motor America, Jaehoon Chang said:
Hyundai is successfully accelerating its transition to electrification and becoming a global leader in EVs despite a challenging business environment caused by the global chip shortage and ongoing pandemic. Along with our seamless efforts to improve EV value, Hyundai Motor will continue to secure its business sustainability as a 'Mobility Solutions Provider' through advanced technologies of not only hardware but also software.
Gearing Up Manufacturing Capacity 
Reflecting Hyundai President Chang's sentiment, Hyundai aims to establish a high efficiency manufacturing process for BEV production to accelerate its transition into electrification. Hyundai Motor Global Innovation Center in Singapore (HMGICS), the cornerstone for innovation in the company's mobility value chain, will build a human-centered manufacturing innovation platform. The platform is expected to bring dramatic innovation in production efficiency through a flexible production system, advanced level automation and digital twin technology.
Visit Rosen Algonquin! 
Looking for a Hyundai near me? At Rosen Algonquin Hyundai, we have a full inventory of new and used vehicles. Our goal when you visit our new Hyundai dealership is to provide you with a superior experience satisfying your needs. Experience the Rosen difference when you shop or service with us! Visit us to test drive a Rosen EV today!