What Is the Hyundai Palisade's Towing Capacity?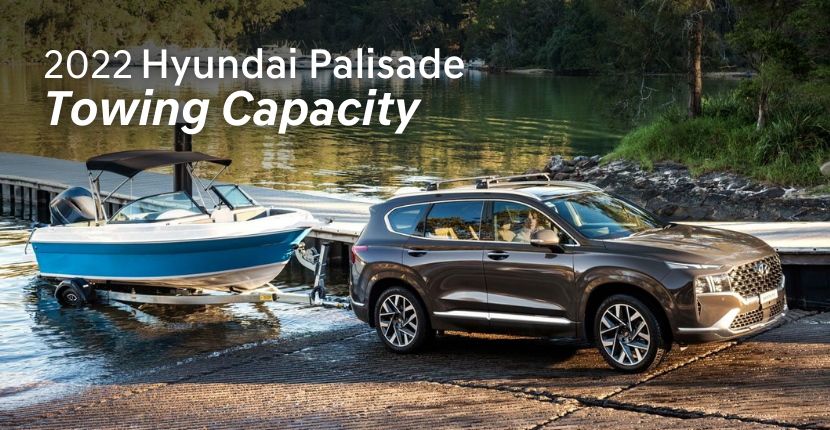 Looking for a luxurious ride with the option of hauling? The Hyundai Palisade is the perfect vehicle for you! The all-new 2022 Hyundai Palisade is an upscale, three-row SUV with a powerful performance and excellent towing capabilities. It's powered by a standard 291 horsepower 3.8L GDI V6 engine, an impressive feat for an SUV. With the Hyundai Trailering Package, you can do even more with your Palisade. See the Palisade's power and capability now at Rosen's Hyundai Algonquin! 
Hyundai Palisade Towing Capacity 
What is the Hyundai Palisade towing capacity? As a three-row, upscale SUV, the Palisade is capable of delivering an impressive maximum tow rating. With the proper trailering equipment, this SUV is capable of achieving a maximum tow rating of up to 5,000 lbs. The Palisade towing capacity without trailer brakes is still an impressive 1,650 lbs. Combined with quite exceptional fuel economy for a full-size SUV, plus a remarkable cargo volume and an array of additional storage solutions, the Hyundai Palisade is prepared to make you feel at home during every journey.
Towing and Performance Features 
Along with its impressive towing capabilities, the Hyundai Palisade also comes equipped with a number of trailering technologies and performance specs designed to elevate each and every drive. The Palisade offers Trailer Sway Control, Vehicle Stability Management, and Downhill Brake Control, all of which deliver more confidence and control, especially when towing.
The Hyundai Trailering Package trailer brakes are necessary to achieve the maximum tow rating alongside the high-powered 3.8L GDI V6 engine that produces up to 291 horsepower and 262 lb.-ft. of torque. HTRAC All Wheel Drive is available for all trim levels and comes paired with Snow Mode and AWD Lock. With Drive Mode Select, you can switch between drive modes to improve your experience on varying roads and weather conditions. Get ready to haul now at a Hyundai Palisade Dealer!
Excellent Cargo and Storage Features 
As an upgraded three-row SUV, the Palisade features a cabin that includes remarkable cargo space and plenty of storage solutions. You and your family can maintain more organization and comfort with the Hyundai Palisade with features like the split flat-folding rear seats with recline, underfloor storage compartment, and one-touch second-row seat access. You also have the choice between the 8 or 7 passenger seating configuration to suit all of your needs. 
With a maximum cargo volume of up to 86.4 cubic feet with the full seat area, the Palisade offers up to 45.8 cubic feet behind the second row or 18 cubic feet behind the third row. All of this space is guaranteed to bring you and your family the peace of mind needed to enjoy the road, especially during longer excursions.
Visit Rosen Algonquin! 
At Rosen Algonquin, we have a full inventory of new and used vehicles. Our goal when you visit our new Hyundai dealership is to provide you with a superior experience satisfying your needs. Experience the Rosen difference when you shop or service with us! Visit our Hyundai Palisade dealership to learn more about its excellent towing capabilities or test drive the Palisade today!