Self-Driving Ioniq Joins Uber Eats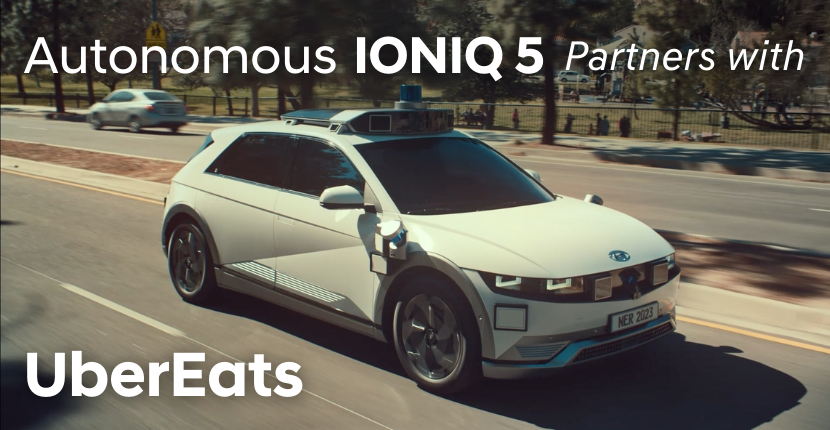 Hyundai Motor Company recently launched a global campaign called "Innovation Begins, from Very Human Things." Its vision for self-driving robotaxis now includes partnering with Motional and UberEats to test a new end-to-end autonomous food delivery service. The partnership is still in its early stages and only being rolled out in Santa Monica, but it's a big step into the future. The IONIQ 5 is the car of the future. Check out the Hyundai IONIQ 5, with an IONIQ 5 price of just $39,950, now at Rosen Hyundai of Algonquin!
Partnering For A Self-Driving Future 
Hyundai will work in partnership with Motional, the global leader in driverless technology and ride-hailing services. They will deploy autonomous vehicles across major U.S. cities starting in 2023. The all-electric IONIQ 5-based robotaxi is an SAE Level 4 autonomous vehicle that can safely operate without a driver. To make the robotaxi a reality, Hyundai partnered with Motional, to equip the award-winning IONIQ 5 with an array of hardware and software to provide safe and secure driverless operation.
Feeding Santa Monica 
Hyundai and Motional will start feeding the people of Santa Monica using the all-electric IONIQ 5-based robotaxi as a tool for delivering UberEats. This launch is UberEats' first partnership with an autonomous vehicle company. The program will allow both companies to receive customer feedback and learn valuable lessons in order to scale the self-driving delivery service across Los Angeles and the rest of the country. 
How Self-Driving UberEats Works 
The Hyundai-UberEats service is specially designed to meet the needs of hungry users. When the autonomous Hyundai IONIQ electric arrives, users will receive a notification. The user then meets the vehicle at a designated pick-up location to order their food in a specially-designed compartment in the backseat of the vehicle. When the food is ready, the user will receive an alert that the vehicle is at the drop-off location. Then, you will be able to securely unlock the door via the UberEats app to grab their order. All of this is meant to make the food delivery service streamlined and easier for the customer. 
Hyundai Leads The Autonomous Future 
Hyundai has a vision for a technology and customer experience that meets the IONIQ's description as "a mobility solution with humanity inside — not just without a human driver." What does that mean? The manufacturer wants the Hyundai electric car to go fully autonomous while retaining a humanistic touch. With lots of research, safety design, and product testing completed, Hyundai and Motional plan to begin transporting public passengers in the Hyundai EV robotaxi in 2023. First, starting in Las Vegas, it will then expand to major cities in the U.S. and globally.
Visit Rosen Algonquin! 
At Rosen Algonquin Hyundai, we have a full inventory of new and used vehicles. Our goal when you visit our new Hyundai dealership is to provide you with a superior experience satisfying your needs. Experience the Rosen difference when you shop or service with us! Visit us to schedule your IONIQ 5 test drive today! Learn more about our Rosen EV selection from our expert staff.