How Your Hyundai Helps Keep Your Child Safe This Summer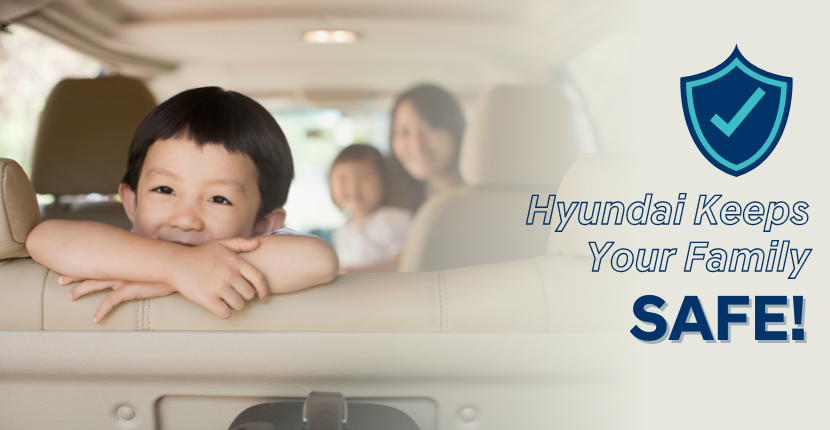 There are a lot of factors to consider when buying a vehicle. How powerful is the engine? Is the interior sharp and clean? Will the paint job turn heads as it cruises down the boulevard? Hyundai specializes in creating vehicles that are flexible and can fit any lifestyle, however, nothing is more important than driver safety, especially children. Parents of young children have very stressful lives, oftentimes juggling both work and family, all while on very little sleep! During the summertime, it is very important to be aware of potential dangers to young children, particularly hot cars that a toddler might accidentally be left in. Read on for a few checklist items from Rosen to keep you and yours safe during the hotter months!
Double-Check
One of the biggest dangers to children during the summertime is being left inside a hot car. Cars heat up rapidly during the summer, even on cloudy and seemingly cool days. Inside a car, the temperature can reach up to 116 degrees Fahrenheit, putting children at serious risk of heat stroke.
Most of the time, parents simply forget to unload their little ones when leaving the car. Many parents have started putting important things in the backseat on purpose, like a phone or purse, to make sure they look back before getting out. Another tip is to make a habit of opening the backdoor as you walk by, even if you aren't traveling with your child. Sometimes, simple miscommunication can put a child in danger. Parents should always communicate with each other about who has what child, even if it seems tedious!
Many children also view cars as fun playpens and might wander in them completely on their own. It is important to keep your cars locked and the keys somewhere where a child cannot reach. As a last resort, some parents have taught their children to honk the horn if they are in danger or stuck inside the car.
Let Hyundai Help
Luckily, the engineers at Hyundai have developed very intuitive ways to keep children safe during the summertime. With Ultrasonic Rear Occupant Alert, the driver is reminded to check the backseat when the engine turns off. After that, overhead sensors monitor the backseat. If movement is detected, the horns honk, the lights will flash, and you'll receive a smartphone alert. Rear Occupant Alert Hyundai reminds drivers to check the backseat whenever they park their Hyundai.
Parking on a busy street can also be a dangerous endeavor. Both Safe Exit Assist and Safe Exit Warning alert you to vehicles coming from behind, preventing you and your children from stepping out into oncoming traffic. If necessary, Safe Exit Assist will even turn on the Electric Child Lock to keep everyone out of harm's way.
There's a reason why the Hyundai safety rating is so high among competitors. With Rear Occupant Alert and other Hyundai SmartSense technologies, Hyundai vehicles truly keeps families safer than ever before. Here at Rosen Hyundai Algonquin, we care especially about automobile safety and are proud to have a lot full of vehicles stocked with amazing safety technologies. Come see for yourself why vehicles like the Hyundai Tucson safety rating are some of the best in the business. Finding us is easy, simply search for a Hyundai dealer near me!