Rosen Has Your Favorite Hyundai Models!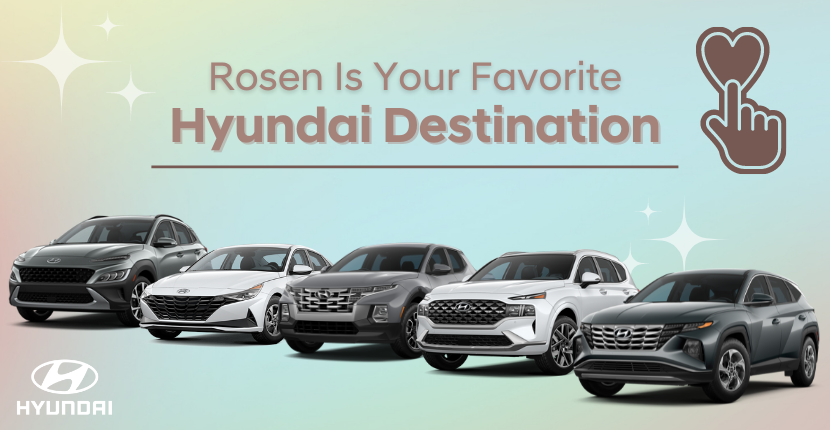 Although there are still inventory shortages affecting the automotive industry, you should know that Rosen still has your favorite vehicles. Even if you don't see the exact vehicle you want on our website, our Rosen Concierge program is here to help. We can get the car you want! Our team is excited to help. Check out the great Hyundai vehicles we have now at Rosen Hyundai of Algonquin.
Hyundai Palisade 
It's still your favorite Hyundai, but even better. It's the brand-new 2022 Hyundai Palisade. At the New York International Auto Show, the new Palisade debuted with a refresh. Hyundai has significantly enhanced the model with a new look, new features, and new advanced driver systems. At the model's debut, Hyundai introduced the flagship SUV with a fresh interior and exterior design. It has new convenience technologies, including 12-inch Navigation, WiFi Hotspot, Digital Key 2 Touch, New Bluelink Features and Driver's Ergo Motion Seat. Our Hyundai Palisade inventory is fully stocked! 
Hyundai Santa Fe 
Looking for great Hyundai SUV models? The Santa Fe is the adventurous family SUV. Whatever's on your to-do list—even the most epic adventures—the 2022 Hyundai Santa Fe is up for making your journey the best it can be. Stylish, safe, and sure, our HTRAC AWD family SUV is on point for all the excursions your family can muster.  
2022 Hyundai Elantra
Bold inside and out, the all-new Hyundai 2022 Elantra is transformed and loaded with technology. With a full spectrum of choices for power and efficiency, the Hyundai Elantra interior takes the spotlight with a giant leap into modern style and intelligent innovation. Hyundai's first hybrid bringing a whopping 50+ mpg, the 2022 Elantra offers a bold new take on sedans. It's why the Elantra is an American favorite.
Rosen Concierge Will Get The Vehicle You Want 
At Rosen, we've decided to take action to make sure we keep up with customer needs and satisfaction. We know that each person is different. That's why we've created a more personalized car buying experience just for you. 
With the Rosen Concierge service, your experience will be personalized so you can shop any way you want. Get ready for white glove service. From the time you order your new vehicle to when you receive it, your Concierge will be waiting to help however they can. When you order a vehicle from Rosen Hyundai, you'll receive free routine vehicle service on your trade-in while you wait, including one complimentary oil change. We'll even wash it for you!
Visit Rosen Algonquin! 
Looking for a Hyundai dealer near me? At Rosen Hyundai of Algonquin, we have a full inventory of new and used vehicles, including Rosen EVs. Our goal when you visit our new Hyundai dealership is to provide you with a superior experience satisfying your needs. Experience the Rosen difference when you shop or service with us! Visit us to check out your favorite Hyundai vehicles in stock now!