IONIQ 5, Santa Cruz, Elantra Hybrid Win Best In Class For Total Quality Awards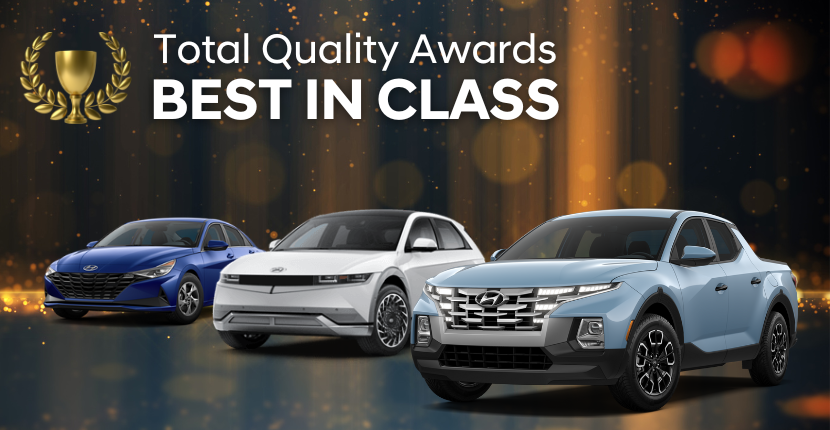 Hyundai recently added three more awards to its shelf. The 2022 Hyundai Elantra Hybrid, IONIQ 5, and Santa Cruz have been named Best-in-Segment in Strategic Vision's 2022 Total Quality Impact Awards. These awards recognize many of the great benefits of driving a Hyundai, including vehicle quality and driver satisfaction. Trust Hyundai AND Rosen with your next car purchase. Visit Rosen Algonquin to check out these award-winning vehicles for yourself! 
What Are The Strategic Vision 2022 Total Quality Awards?
Strategic Vision's TQI report measures total vehicle satisfaction among new car owner. This reflects not only the quality of the vehicle, but the emotional connection it makes with buyers.
The group's 27th annual TQI report surveyed over 112,078 new vehicle buyers after the first 90 days of ownership. It asks buyers to rate all aspects of the ownership experience from buying and owning to performance and driving. Vehicles are then given scores on a 1,000 point scale based on all of these factors. 
Hyundai Scores High 
In the Small Alternate Powertrain Car category, the Hyundai Elantra Hybrid scored 538 points. Meanwhile, the Hyundai IONIQ 5 EV scored 553 points in the Mid-Size Alternate Powertrain Car category. Finally, the 2022 Hyundai Santa Cruz scored the highest with 578 points in the Standard Pickup category. 
Hyundai Reacts To The Awards 
Ricky Lao, the Director of Product Planning at Hyundai Motor North America, said:
The Strategic Vision Total Quality Impact report recognizes Elantra Hybrid, IONIQ 5 and Santa Cruz's tremendous quality and impressive consumer appeal. Offering a combination of exciting design, outstanding residual value, and efficiency, these vehicles continue to be top contenders in very competitive segments, and we are pleased by their outstanding market reception this year.
How The IONIQ 5 Stands Out 
Built on an intelligent battery platform that can be modified for different powertrain configurations, the IONIQ 5 gives you more miles, more muscle, and more options. You have the choice of a rear-wheel drive option powered by a single 168kW motor with 225 hp and 300 miles of IONIQ 5 range. Looking for more performance? Check out the HTRAC All-Wheel Drive with 74kW and 165kW motors that belt out 320 horsepower yet still give you an efficient 269-mile IONIQ 5 mpge range.⁠ The starting IONIQ 5 price is $39,950, and its electric capability saves you time and money at the gas pump.
The Elantra Hybrid Offers A Bold New Take 
Bold inside and out, the all-new Hyundai Elantra is transformed and loaded with technology. With a full spectrum of choices for power and efficiency, the Hyundai Elantra interior takes the spotlight with a giant leap into modern style and intelligent innovation. Hyundai's first hybrid bringing a whopping 50+ mpg, the 2021 Elantra offers a bold new take on sedans.
Santa Cruz Is The First Of Its Kind 
All in. Full on. Up for anything. Hyundai's first-ever Sport Adventure Vehicle is built to pack all that you can into each day. Hyundai gave it the perfect combination—the modern convenience and space of an SUV, and the open bed of a pickup truck, to bring you uncommon flexibility and freedom. So don't miss out! Discover the first-ever Hyundai Santa Cruz for yourself. Starting at just $24,400, the Santa Cruz truck gets up to 27 mpg highway and an impressive 281 horsepower. 
Visit Rosen Algonquin! 
At Rosen Algonquin Hyundai, we have a full inventory of new and used vehicles, including Rosen EVs. Our goal when you visit our new Hyundai dealership is to provide you with a superior experience satisfying your needs. Experience the Rosen difference when you shop or service with us! So visit us to learn more about or schedule your test drive of the Strategic Vision's 2022 Total Quality Impact Award Winners!