Stay Organized With The Cargo Package on the 2023 Santa Fe, Kona, and More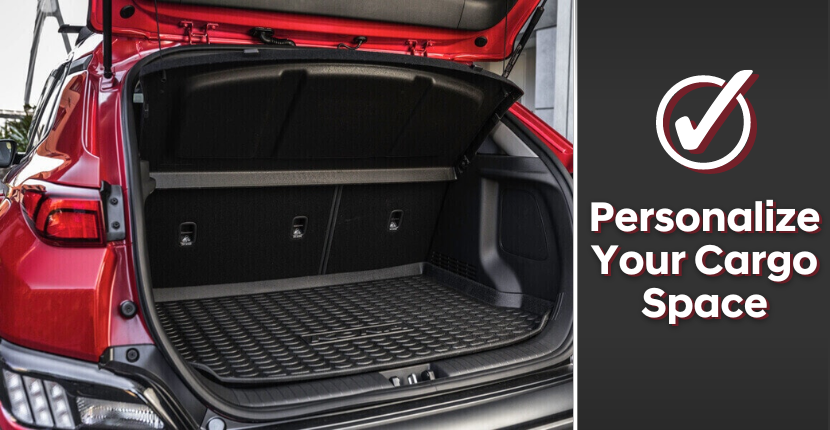 Whichever 2023 Hyundai model you choose, you can customize it even more with tailored feature packages and Hyundai accessories. You can order and have them added to your new vehicle conveniently. One of the most popular packages for the 2023 Santa Fe and 2023 Kona is the Hyundai Cargo Package. It comes with great features that make hauling everything you need for your next adventure easy and hassle-free. Check out the Hyundai Cargo Package on select models now at Rosen Hyundai of Algonquin! 
What's Included In The Hyundai Cargo Package 
For vehicles that offer it, the Hyundai Cargo Package is made to help you stay organized and flexible when you're heading out on the road. The cost to add more convenience to your new Hyundai vehicle is just $195. It comes with a reversible Hyundai cargo tray, a cargo net, and trunk hooks. 
You can also add other great cargo accessories, like a Cargo Cover, Cargo Blocks, Cargo Liner, Cargo Cross Bars, and more. 
Why Choose The Hyundai Cargo Package 
With the Hyundai Cargo Package, it's easier to go on your next adventure. It makes transporting cargo easier, from suitcases to sports equipment to boxes and more. The accessories work together to keep your items secure, as well as make cargo space easy to maintain. 
Vehicles With The Hyundai Cargo Package Available Now 
At Rosen Algonquin Hyundai, we have many great vehicles in stock that come equipped with this package, such as select 2023 Hyundai Santa Fe and 2023 Hyundai Kona models. You can view vehicles equipped with the Hyundai Cargo Package that are available now on our website. 
Hyundai Santa Fe Offers Superior Cargo Space 
Whatever's on your to-do list—even the most epic adventures—the 2023 Santa Fe is up for making your journey the best it can be. Stylish and sure, our family SUV with available HTRAC AWD is on point for all the excursions your family can muster. Plus, all this is available in our turbocharged Santa Fe Hybrid and Santa Fe Plug-in Hybrid. The 2023 Hyundai Santa Fe cargo space is second to none, with 72.1 cubic feet behind front seats and 36.4 cubic feet behind the second row. 
Bring Everything Along In The Hyundai Kona
The 2023 Kona goes full-strength SUV in styling, technology and versatility. With a bold face, long profile, innovative convenience and safety features, the Kona offers SUV capability as well. For example, get it with the available All Wheel Drive for extra performance. It's the large SUV adventure and sophistication you need, in the small SUV size you love. ⁠You don't have to sacrifice space with the Kona. The Hyundai Kona cargo space is 19.2 cubic feet with rear seats up and 45.8 cubic feet with rear seats folded down. 
Visit Rosen Algonquin! 
At Rosen Hyundai we have a full inventory of new and used vehicles, including Rosen EVs. Our goal when you visit our new Hyundai dealership is to provide you with a superior experience satisfying your needs. Experience the Rosen difference when you shop or service with us! Visit us to learn more about the great features of the Hyundai Cargo Package today!