Does Cold Weather Affect Your EV's Range?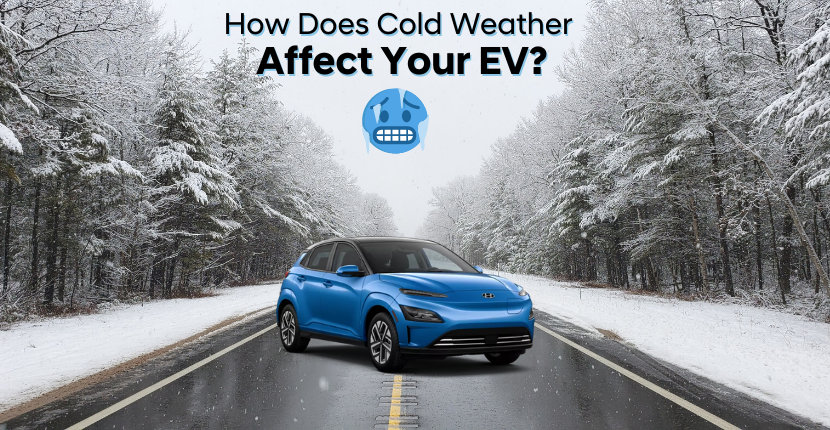 As the seasons change, temperatures will lower, and inclement weather will be headed our way. With winter officially on the horizon, it's important to think about how cold weather and icy conditions can affect your vehicle's operation. For electric vehicle drivers, one thing you might be considering is how cold weather will affect your EV's range. At Rosen Hyundai Algonquin, we're here to help you with all of your Hyundai electric car questions! 
Does Cold Weather Affect Your EV's Range? 
The short answer? No. However, it is important to consider that running and maintaining the internal heating is what may cause you to see decreased range. For this reason, we recommend prioritizing range and always being cognizant of your charge level.
In colder weather, engines take even longer than usual to warm up because the low temperature makes it difficult to generate and circulate warm air. The extra time required to warm up your vehicle results in less time spent at the optimal temperature for fuel efficiency. All of this means that your engine is working harder than normal to power your vehicle, and this extra effort simply uses more gas than is typical. Your vehicle's efficiency will probably decrease as a result—whether it's an electric vehicle or gas engine. 
Ways To Counteract Reduced Efficiency 
The Hyundai IONIQ 5 comes equipped with a new feature to help counteract reduced efficiency due to cold weather. For the great IONIQ 5 price of just $41,450, the IONIQ 5 comes with a heat pump and battery heater on all AWD 2022 model year vehicles. As anticipated for the Hyundai IONIQ 6, the 2023 model of the IONIQ 5 will feature the battery heater as standard equipment on all versions. 
How To Charge Your EV In The Winter 
Similar to how cold weather affects your EV's range, charging an electric car in low temperatures will probably take longer than usual. All three types of EV charging—Level 1, Level 2, and DC Fast Charging—will probably require more time to fully charge your electric vehicle while temperatures remain low. However, DC Fast Charging will be most impacted by frigid temperatures, so it's a good idea to allocate more than normal for this level of charging. 
Get Ready For Cold Weather With Winter Maintenance 
One of the most important things you can do for your safety and comfort during the winter is to winterize your vehicle with special winter-geared maintenance. Maintenance specially designed for cold weather and icy conditions includes investing in new wiper blades, refilling your car's fluids, or installing a cold weather car battery. Getting this kind of maintenance done is essential to maintaining your safety and the upkeep of your vehicle as temperatures lower. 
Visit Rosen Algonquin! 
Looking for a Hyundai dealership near me? At Rosen Algonquin Hyundai, we have a full inventory of new and used vehicles, including Rosen EVs. Our goal when you visit our new Hyundai dealership is to provide you with a superior experience satisfying your needs. Experience the Rosen difference when you shop or service with us! Visit us to learn more about Hyundai electric vehicles, like the Kona Electric, and how they fare in the winter today!