Hyundai Makes It Easier Than Ever To Electrify Your Home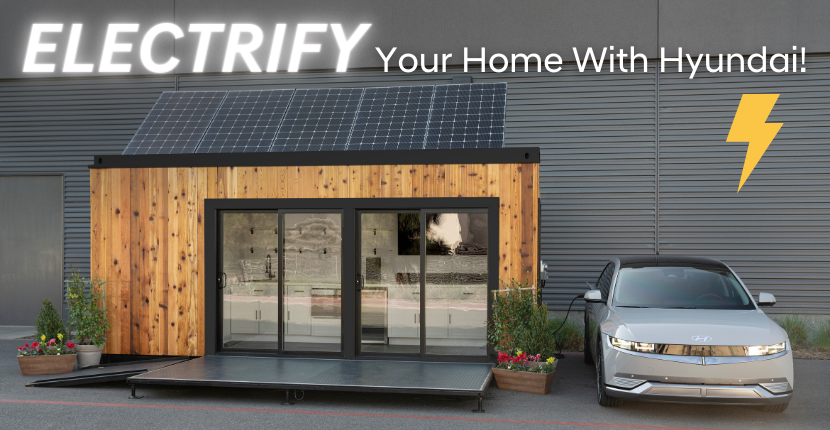 With Hyundai, a more evolved home awaits. Hyundai and Electrum are partnering to get you started on your journey, beginning with your home EV charger. Hyundai Home means creating a more electric home for your electric Hyundai. Not only can you charge your electric Hyundai at home, you also have the power to take charge of your home's energy. Hyundai Home gives you an easy way to produce, store and use your own energy with solar panels, energy storage systems, and the Level 2 ChargePoint Home Flex EV charger.⁠ Learn more about Hyundai Home for your EV now at Rosen Hyundai Algonquin! 
Hyundai Home Is Here For You 
The biggest hurdle to moving to an EV is understanding the infrastructure around it. Where do you charge? How long do you charge? How expensive is it? Well, we're here to make the transition as painless as possible. Hyundai Home is a partnership between Hyundai and Electrum to develop a one-stop online EV marketplace. The goal? To connect homeowners in select states to solar panels, energy storage systems, EV chargers, and local installers. It gives homeowners in select states an easy way to produce, store, and use their own energy to power their lives at home and on the road. 
Equip Your Home With The ChargePoint Home Flex EV Charger
One of the best things about driving electric is the ability to charge at home. With the 240-volt Level 2 ChargePoint Home Flex EV charger you can charge up to 9 times faster than with a conventional 110-volt outlet. This Hyundai Home Charger gives you more ways to take charge of your home's energy.
More Energy Solutions 
You can also install solar panels through Hyundai Home's program. The answer to saving money on your electric bill is literally over your head. Solar panels are an efficient way to generate your own electricity and to help reduce your carbon footprint. You can even save excess solar energy by using an Energy Storage System, now available in select markets. 
Hyundai also offers a smart way to make the most of your solar panels' extra energy with the Hyundai Energy Storage System. This system,  now available in select markets , stores your panels' excess electricity for future use—like helping to power your home at night, during peak usage hours, and during blackouts. 
Hyundai Electric Cars 
Don't yet have a Hyundai EV? Check out the Hyundai IONIQ electric series! Pushing the boundaries of innovation and luxury, the IONIQ 5 is not a car to miss. Drop by for a test drive today and see it in action. Plus, you get 2 years of 30-minute complimentary charging sessions when you purchase the 2023 IONIQ 5.!
Or, look out for the newest model in the IONIQ series. The evolution of the IONIQ family takes a leap forward with a gorgeous newcomer, the IONIQ 6. With a streamlined silhouette that takes your breath away, technology that anticipates your needs, and ultra-fast charging capabilities that saves you more time, the IONIQ 6 arrives early 2023 with extremely limited availability. 
Visit Rosen Algonquin! 
At Rosen Hyundai, we have a full inventory of new and used vehicles, including Rosen EVs. Our goal when you visit our new Hyundai dealership is to provide you with a superior experience satisfying your needs. Experience the Rosen difference when you shop or service with us! Visit us to take advantage of the great options available from Hyundai Home for your EV now!