Introducing the All-New 2024 Hyundai Kona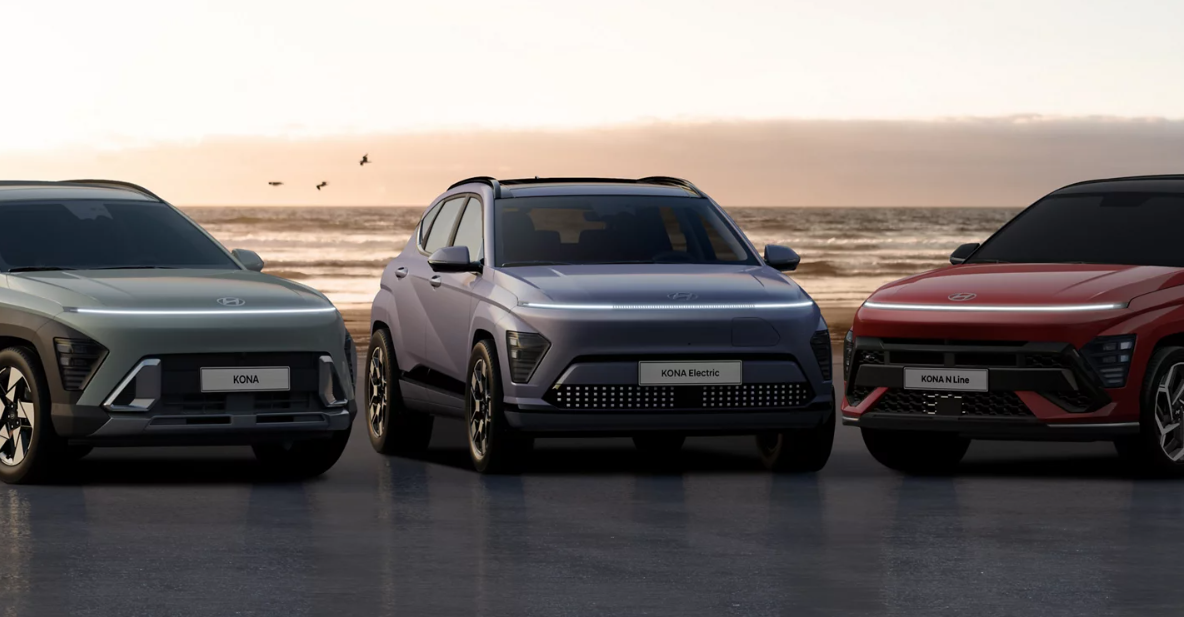 More style, more room, and more refined, the all-new 2024 Hyundai Kona is set to arrive in summer 2023. Hyundai is planning the new Kona to coincide with its new EV Revolution. For the new generation of its most iconic, urban-centric SUV, Hyundai is bringing technology-led design thinking to the entire Kona range. The 2023 model had four variants—including the Hyundai EV, ICE/HEV and sporty N Line—for the first time ever. And it's all back and better than ever for 2024. Visit us at Rosen Hyundai Algonquin to be the first in line for the 2024 Kona!
Dramatically Redesigned
The all-new 2024 Kona family gets a stunning makeover that elevates every facet of our beloved compact SUV—from its chic, modern design inside and out, to its expanded passenger space and cargo room. Available in gas models, including the race-inspired N Line, beginning in Summer 2023. And there's so much more to be excited about— the Kona Electric will arrive in late 2023 with limited availability.
A New Architectural Style
The new Hyundai Kona is bigger and truly breathtaking, inside and out. With its ultramodern exterior design and sophisticated yet highly versatile interior that accommodates a diverse range of lifestyles, the 2024 Kona promises a daring glimpse into the future of the urban SUV.
EV-Led Design Guides the Kona
In December, Hyundai Motor America debuted the EV-derived, futuristic design for its new generation Kona subcompact SUV. The all-new Hyundai Kona brings Hyundai's commitment to sustainable mobility and technology-led design thinking by expanding its EV offerings. Innovated and advanced by the award-winning IONIQ lineup, Hyundai EVs will work towards the goal of meeting the diverse mobility needs of its customers with a variety of powertrains.
The upscaled model is available in four variants: all-electric (EV), hybrid electric (HEV), internal combustion engine (ICE), and sporty N Line, with a universal architecture for all and unique styling for each individual model. 
Stay Informed
Sign up to get the latest information and updates on the completely redesigned 2024 Kona family now! And you can stop by Rosen Hyundai Algonquin to be the first to test drive the 2024 Kona when it hits dealers this summer, or you can reserve your new Hyundai Hybrid right now!
Visit Rosen Algonquin!
Looking for a Hyundai dealership near me? At Rosen Algonquin Hyundai, we have a full inventory of new and used cars. Our goal when you visit our new Hyundai dealership is to provide you with a superior experience satisfying your needs. Experience the Rosen difference when you shop or service with us! Visit us to get all the inside details on the all-new, totally redesigned 2024 Hyundai Kona and other new Hyundai models!