How Far Can You Drive Your Hyundai After the Gas Light Comes On?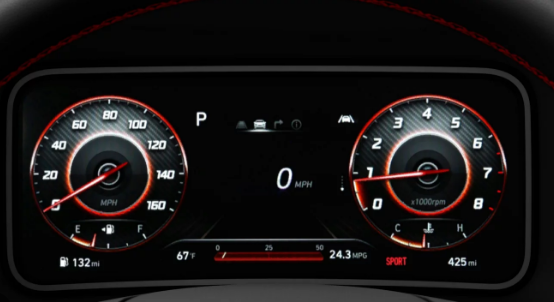 You know that moment of panic. When your Hyundai low fuel light comes on, it's understandable that you might be worried and immediately rush to the nearest gas station. A blinking low fuel light signals that you're soon to run out of gas and might be stuck out on the road without being able to refuel. It's important to know what this indicator means and when the address the problem. Check out our guide to what it means for a Hyundai gas light on, and stop into Rosen Hyundai Algonquin for service today! 
What is the Low Fuel Light? 
Typically, most vehicles have a low fuel light on the dashboard, but some models may have it on a screen. The low fuel light simply turns on when you have a low level of gas detected by electronic sensors in the fuel system. Most systems use a floatation device in the tank to measure how much fuel is left. When it reaches a certain threshold at the bottom of the tank, the light comes on. As soon as you fill the fuel beyond that threshold, the gas warning light will go off.
How Long Can You Drive When the Low Fuel Light is On? 
There's an old adage that when the low gas light comes on, you only have a mile left until it's empty. Well, that's not quite true. Most vehicles will travel 30 to 50 more miles once the gas light comes on before the gas tank is empty. However, each vehicle can drive for a different amount of time, so it depends on how big the tank is and where the low fuel threshold is. For example, some models, like the Nissan Altima, can continue on for another 100 miles once the low fuel light comes on, whereas other vehicles, like the Ford F-150, can only travel about 35 more miles. 
If you want to know exactly how much mileage your vehicle has left, you can check the size of your vehicle's fuel tank and the threshold that activates the low fuel light. You can get these numbers from your owner's manual. Based on that number, you should be able to determine an approximate number of miles you could still travel. 
Dangers of Driving on Low Fuel 
Driving on a tank with a low level of fuel can be dangerous and cause damage to your vehicle. Although you might be trying to hold out for lower gas prices or just make it to your next destination, it's important to fill up at least a bit if your low fuel light comes on. Here are some of the reasons it's a bad idea to drive at low fuel levels: 
You can damage your vehicle's fuel pump 

It can cause excessive engine sediment buildup 

Doing so can clog your fuel filter 

It can corrode your fuel injection system 
Service with Rosen Algonquin 
When you service your vehicle at Rosen Hyundai Service Center, everything is easier. With us, no appointment is necessary—walk-ins are always welcome. We know your time is valuable. That's why Express Lube service is available, and the job will be completed in minutes. If you're looking for routine maintenance, you can instantly book an appointment online to fit your schedule. Finally, at our Hyundai dealer Algonquin, IL, you'll always receive our latest specials for your vehicle.
Visit Rosen Algonquin! 
Looking for a Hyundai dealer near me? At Rosen Algonquin Hyundai, we have a full inventory of new and used vehicles, including Rosen EVs. Our goal when you visit our new Hyundai dealership is to provide you with a superior experience satisfying your needs. Experience the Rosen difference when you shop or service with us! Schedule your Hyundai oil change or other summer service now!