What is the Best Location for an EV Home Charger?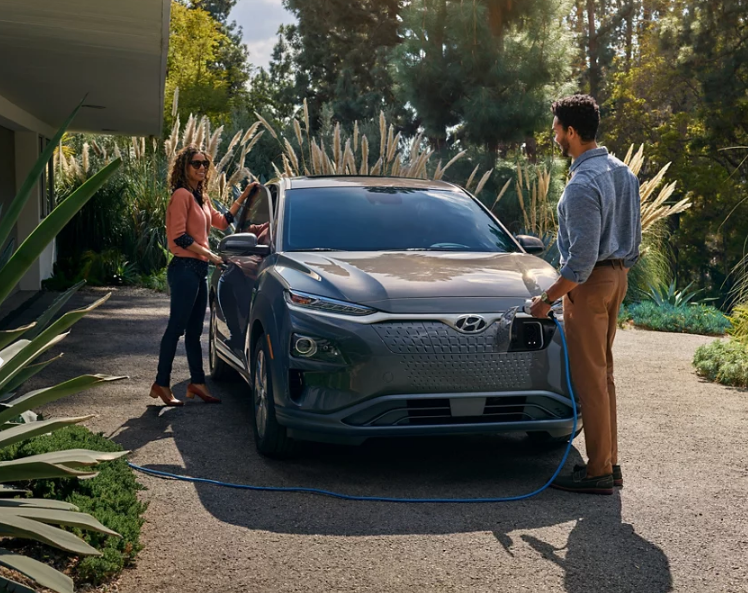 Driving an electric vehicle is easier than ever. EVs save you time and money at the gas pump, in addition to making driving more sustainable. Plus, most electric vehicles are also eligible for $7,500 federal tax credit. Maintenance is also easier, less frequent, and cheaper, and EVs are more pleasant to drive—driving more quietly and delivering torque immediately. And now, a home EV charger installation is easier and cheaper than ever before. Learn more about getting a Hyundai EV Home charger now! 
The Best Location for Your Home EV Charger 
The best EV charger placement for your home is in your garage, in a place with easy access to a plug and plenty of space. Additionally, you'll want to make sure your EV charger garage location is in a position that has good internet connectivity because EV chargers connect to a smartphone app to give you important information about your charge. Typically, this spot is right near the door that leads into your house, but it doesn't have to be. As long it's located on a wall near where you park your car, you're all set. Plus, it might be best to install it either right beside or in front of your parking spot.
Importance of Installing a Home Charger 
Although there are many more charging stations available than ever before, owning an EV without home charging can still be difficult. Letting your vehicle charge while you're at home makes things easier, plus you won't be charged a fee at home like you would at a station. 
And now, becoming an electric vehicle owner is easier than ever with home charging. Installing an SAE J1772, also known as a Level 2 Charger, means your charging capacity will be around 12–60 miles of range per hour. That's enough to add 200-plus miles of range overnight. Without it, you'll only be able to add roughly four miles of range for every hour on the socket. 
Hyundai Home is Here for You 
With Hyundai, a more evolved home awaits. Hyundai and Electrum are partnering to get you started on your journey, beginning with your home EV charger. Hyundai Home means creating a more electric home for your electric Hyundai. Not only can you charge your electric Hyundai at home but you also have the power to take charge of your home's energy. Hyundai Home gives you an easy way to produce, store and use your own energy with solar panels, energy storage systems, and the Level 2 ChargePoint Home Flex EV charger.⁠ 
Hyundai Home is a partnership between Hyundai and Electrum to develop a one-stop online marketplace to connect homeowners in select states to solar panels, energy storage systems, EV chargers, and local installers. It gives homeowners in select states an easy way to produce, store, and use their own energy to power their lives at home and on the road. Plus, its goal is to reduce the cost of installing home EV charger. 
Visit Rosen Algonquin! 
Looking for a Hyundai dealer near me? At Rosen Algonquin Hyundai, we have a full inventory of new and used cars Algonquin, IL, including Rosen EVs. Our goal when you visit our new Hyundai dealership is to provide you with a superior experience satisfying your needs. Experience the Rosen difference when you shop or service with at your Algonquin Hyundai dealer! Stop in today to check out all the reasons why home EV charging is easier than ever!