IONIQ 5 N Debut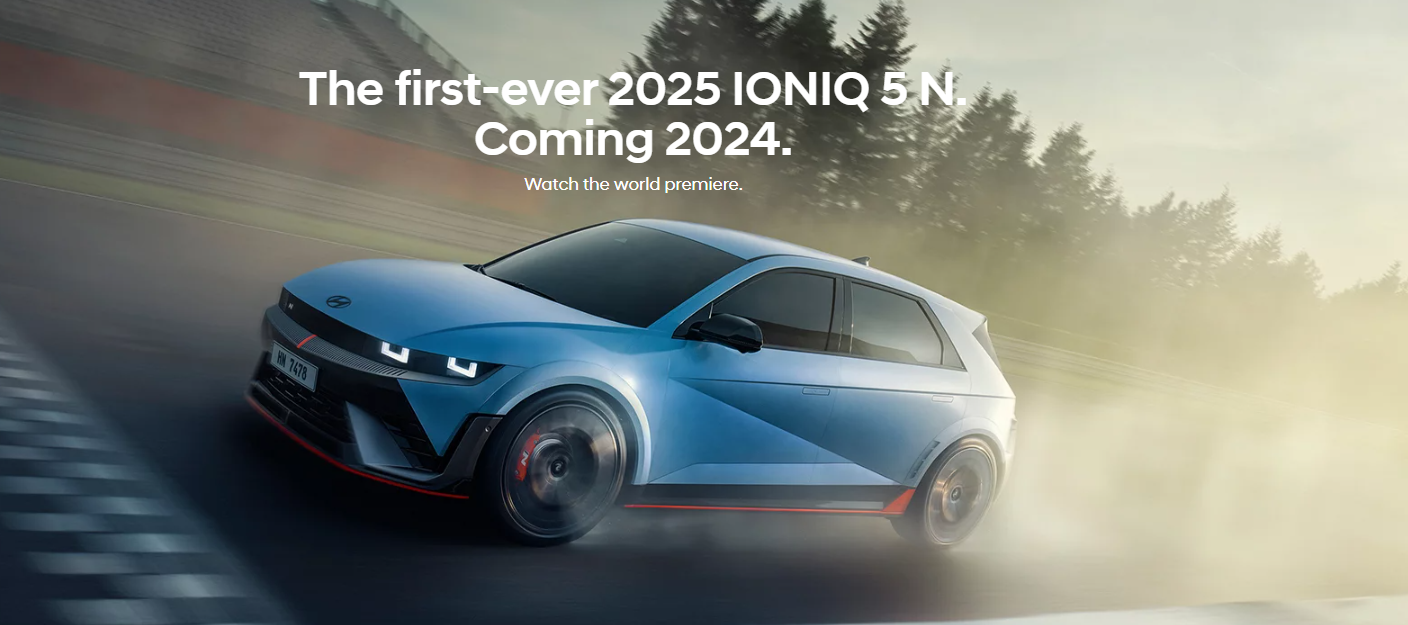 As Hyundai gears up for the release of the IONIQ 5 N, the automotive world is abuzz with anticipation. With a projected release date on the horizon and promising performance features, this electrifying model is set to captivate driving enthusiasts who are eager to experience the exhilaration of electric power. As we await further details from Hyundai, one thing is certain: the IONIQ 5 N is poised to be a game-changer in the realm of electric performance vehicles. Check out the IONIQ 5 N Line now at Rosen Hyundai of Algonquin! 
IONIQ 5 N Performance and Powertrain
At the heart of the IONIQ 5 N's allure lies its impressive performance capabilities. Drawing inspiration from Hyundai's motorsport expertise, the "N" branding signifies a focus on dynamic driving experiences. The Hyundai IONIQ 5 N is expected to offer exhilarating acceleration and handling, backed by a robust electric powertrain.
While specifics regarding powertrain details are still under wraps, experts predict that the IONIQ 5 N will feature a dual-motor setup that delivers power to all four wheels. This setup not only promises enhanced traction and stability but also an electric powertrain designed to thrill drivers with rapid acceleration and responsive handling.
Release Date and Buzz
The Hyundai IONIQ 5 N has been generating a substantial amount of buzz among automotive enthusiasts and EV aficionados alike. While an official IONIQ 5 N release date has yet to be confirmed by the company, industry insiders suggest that the IONIQ 5 N could hit showrooms as early as the end of 2023 or early 2024. This projection has only fueled the excitement surrounding the model's impending debut.
Distinguishing Features from the IONIQ 5
The IONIQ 5 N takes inspiration from its sibling, the IONIQ 5, but with a distinct focus on high-performance driving. Visually, the N variant is likely to sport more aggressive styling cues, including larger alloy wheels, aerodynamic enhancements, and unique N badging. Interior enhancements are also expected, with sportier seats and accents that underline the car's performance-oriented character. Plus, the IONIQ 5 N is projected to receive a suspension and chassis tuning tailored for spirited driving. This means enthusiasts can anticipate a more engaging driving experience compared to the standard IONIQ 5 model.
Price Range and Accessibility
As for the price, Hyundai has not officially disclosed the exact figures for the IONIQ 5 N. However, it's reasonable to assume that the N variant will carry a premium over the base IONIQ 5 due to its performance enhancements and unique features. Potential buyers should be prepared for a higher price tag that reflects the added value and excitement the IONIQ 5 N brings to the table.
Despite the potential premium Hyundai IONIQ 5 N price, Hyundai has demonstrated its commitment to making electric mobility accessible to a wider audience, so it's likely that the IONIQ 5 N will be competitively priced within its performance-oriented segment.
Visit Rosen Algonquin! 
Looking for a Hyundai dealer near me? At Rosen Algonquin Hyundai, we have a full inventory of new and used cars Algonquin, IL, including Rosen EVs like the Hyundai Tucson Hybrid. Our goal when you visit our new Hyundai dealership is to provide you with a superior experience satisfying your needs. Experience the Rosen difference when you shop or service with your Algonquin Hyundai dealer! Visit our IONIQ 5 dealer to see the new N Line model for yourself today!